Title: Indelible, Book 1 in the Twixt series
Author: Dawn Metcalf
Publisher: Harlequin Teen
Genre: Young adult, paranormal, romance
Links: Book Depository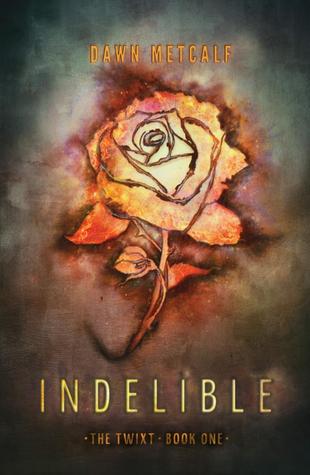 Blurb:
Some things are permanent. Indelible. They cannot be changed back… Joy Malone learns this the night she sees a stranger with all-black eyes across a crowded room – right before the mystery boy tries to cut out her eye.
Instead, the wound accidently marks her as property of Indelible Ink, and this dangerous mistake thrusts Joy into an incomprehensible world – a world of monsters at the window, glowing girls on the doorstep, and a life that will never be the same.
Now, Joy must pretend to be Ink's chosen one – his helper, his love, his something for the foreseeable future. Failure to be convincing means a painful death for both of them.
Swept into a world of monsters, illusion, immortal honour and revenge, Joy discovers that sometimes, there are no mistakes.
Why I picked it up:
Catching the eye of a mysterious stranger across the room? Pretending to be in a relationship with someone, which practically screams love/hate relationship potential and serious awkwardness. A guy called Ink? How could I leave this book behind? It sounded like the biggest guilty pleasure ever!
What I liked about it:
I really enjoyed the writing style, especially in the first half of the book. It was fast paced, simple, and the author had some brilliant one-liners. I caught myself reading back over passages and writing them down because to me, they epitomised 'smart writing'.
For example:
Now dad didn't even have to come home from late nights at work. He could just log on to the site and check in via remote. It was worse than being invisible – it was a high-tech way of being ignored.
&
It glowed fiery pink – the colour of fingers on flashlights.
Along with the writing, I thought the dialogue flowed well and I loved the relationship between Joy and Ink. It felt really organic and the passion leapt off the page.
What I didn't like about it:
I loved the writing, the characters, and the love story. So why am I rating this book 2.5 stars? In a word… plot. It made no sense. Halfway through the book I still had no idea why Ink was "marking" people. The author explained it at least three times and I still didn't get it. To add to that, I had no idea who or what Ink or his people were. They called themselves "folk" but they seemed to appear in all forms with no real rules to what they could do.
I think the problem was the world building. There weren't any solid rules. It seemed to be "anything goes" which I would like to say was confusing but really, there wasn't enough solid information given to allow the world to take shape. It was one big mess of random "folk" attacking Joy and Ink, and at the end of the day, I had no clue why.
Because of that, I didn't enjoy the second half of the book as much as I enjoyed the first. I liked it when it was light and romantic but the second it delved deeper into the plot, because the basics of the world weren't there from the beginning, it just lost me.
For that reason, I won't read the next book in the series, but will definitely keep an eye out for other work from the author.
My verdict: 2.5 stars
Have you ever read a book before that theoretically you could have liked, but an element of the story let it down?