Title: Nightshade, Book 1 in the Nightshade trilogy
Author: Andrea Cremer
Publisher: Penguin
Genre: Young adult, fantasy
Links: Book Depository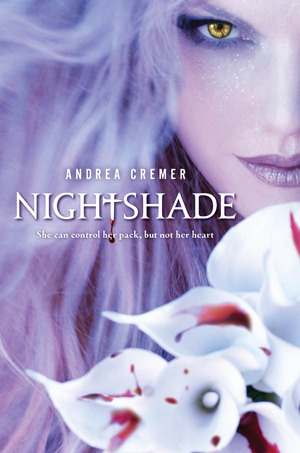 Blurb:
Calla Tor has always known her destiny: graduation, marriage and then a life leading her pack.
But when she defies her masters' laws to save a human boy, she must choose. Is one boy worth losing everything for?
What I liked about it:
I loved the world building. It's so strong. I also love how the mystery of their world is slowly revealed. At first Calla thinks everything is okay and then the cracks slowly begin to manifest and she starts to question everything. I love that she does that. That she notices what isn't right and stands up for herself. Like she's on a quiet rebellion, it's excellent.
I think the thing I loved the most about Nightshade was the theme of choice. The ultimate choice between you family, friends and everything you have ever known versus your gut feeling and what you think is right. It's a timeless theme and it was executed so well.
What I didn't like about it:
I first read Nightshade back in 2011 and I loved it then and I loved it now. I really can't fault it. So, why aren't I rating it 5 stars? I suppose because while it was great, it didn't have any moments that made me want to do this:
My Verdict: 4 stars