Title: Rabbit Ears
Author: Maggie DeVries
Publisher: Harper Collins
Genre: Young adult, contemporary, abuse
Links: GoodReads
Wow… I haven't read a book like this in a very long time. Books like this make me realise how fluffy and shallow a lot of young adult books are. Because this… This was haunting, powerful, devastating and unlike anything I've devoured in… well, ever.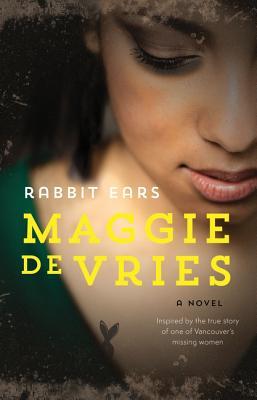 Blurb:
Kaya is adopted, multiracial, grieving the death of her father—and carrying a painful secret. Feeling ill at ease with her family and in her own skin, she runs away repeatedly, gradually disappearing into a life of addiction and sex work. Meanwhile, her sister, Beth, escapes her own troubles with food and a rediscovered talent for magic tricks. Though both girls struggle through darkness and pain, they eventually find their way to a moment of illumination and healing.
What I didn't like about it:
Rabbit Ears is written in alternating points of view. Kaya's sections were written in second person and Beth's were written in first. I didn't hate the style, but there were a couple of times I found myself backtracking because the sudden changes were a little jarring. That said, I couldn't imagine this book being written in any other way.
I guess another minor dislike was that while I loved this book, it isn't the sort of story I'd read over and over again. It isn't a book that makes you feel good about the world and fall in love with life. This is the sort of story that makes you think, and in my case, appreciate my good fortune that I never had to go through what Kaya or her family did.
What I liked about it:
The authors writing… wow. From the very first page it was incredibly visual. I devoured this book in one sitting and at 158 pages, it's a short but intense read.
Kaya was like a car crash waiting to happen and I loved how her life and past were slowly revealed. In some deep part of my mind I'd always wondered how people end up with a life in drugs and prostitution, and I thought Kaya's story was incredibly moving. I believed every single word.
Overall, I loved this book. It dealt with an incredibly intense subject in a powerful and moving way. This book will stay with me for a while!
My Verdict – 4.5 stars – highly recommended.