Title: Virgin
Author: Radhika Sanghani
Publisher: Berkley Trade (Penguin)
Source: eARC
Genre: Contemporary, New Adult, Chick-Lit
Links: Book Depository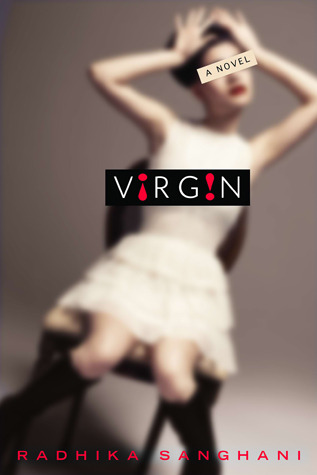 Blurb:
Okay, I admit it…I didn't do it.
Yet.
This is normal, right? I mean, just because everyone I know has talked like they've already done it doesn't mean that they're telling the truth…right?
It's not like I'm asking for that much. I don't need the perfect guy. I don't need candlelight or roses. Honestly, I don't even need a real bed.
The guys I know complain that girls are always looking for Mr. Right—do I have to wear a sign that says I'm only looking for Mr. Right Now?
Sooooo…anyone out there want sex? Anyone? Hello? Just for fun?
I am not going to die a virgin. One way or another I am going to make this happen.
Hey, what have I got to lose? Besides the obvious.
Overall Thoughts:
There was a lot of good in this book, and a lot of bad, but overall, I think it's the sort of book that every young girl should read. Just to even out all the "finding the one, perfect romance, and Disney princess" trash we get fed.
What I didn't like about it:
The writing was pretty dialogue heavy in places. From time to time there would be these long rambling conversations that probably could have worked better if they were shorter and snappier. The whole "starting a blog" thing definitely dragged, and a lot of Ellie and Jack's conversations dragged too.
Halfway through, this book started to read a little like an advice column. It talked endlessly about 'vagina' dramas and 'body hair' dramas, which was funny at first, but 100 pages in it was like, can we move on to the plot now? It started well and ended well, but the middle section dragged.
What I liked about it:
It was immediately clear how unique and welcoming the "voice" of this novel is. The writing style is interesting, with bullet points mid prose, underlined headings and blog posts.
This book had a lot of laugh out loud moments. Not because the author was trying to be funny but because it was so honest and true! The things we girls do for boys!
Most of all, I adored the last twenty or so pages. As young women we read so many books and watch so many movies about the perfect romance, and finding the perfect guy who completes you in every single way. So in that sense, this book was like a freaking breath of fresh air! Oh my God!
My Verdict – 3.5 stars – every single girl who reads this blog needs to read this book.