Title: Beautiful Oblivion
Author: Jamie McGuire
Publisher: Atria Books (Simon & Schuster)
Genre: NA, Contemporary, Romance
Links: Book Depository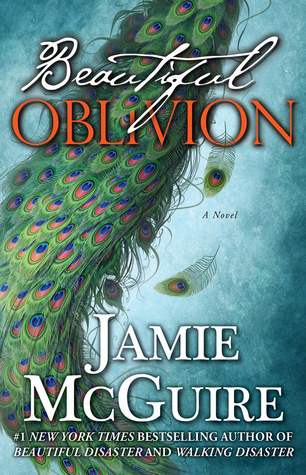 Blurb:
Camille Camlin works hard, tending the bar at The Red Door most weekends to remain independent from her father. After nearly a year, Cami finally has the weekend off so she can visit her boyfriend, but then he calls to cancel and Cami's left with nothing to do…
Trenton Maddox was idolised by the masses at Eastern State University, but after a tragic accident turned his world upside down, he dropped out and moved back in with his father. Life is finally getting back to normal for Trent, working at a tattoo parlour to save up for his own place, until he comes across Cami sitting alone at a table in The Red Door…
With four rowdy brothers, Cami is convinced she'll be able to keep her friendship with Trenton Maddox strictly platonic. But when a Maddox boy falls in love, he loves forever – even if Cami is the only reason that his already broken family might completely fall apart…
What I didn't like about it:
To be honest… I was lost 50% of this book. I read Beautiful Disaster a couple of years back, but never read Walking Disaster. I would suggest revisiting both of these before reading this instalment because I was like… wait, huh?
I thought this novel would stand on its own (being about Trenton instead of Travis) but it took place in a timeframe alongside Beautiful Disaster and there were a lot of Travis moments that felt pretty random. I was also really confused by how Camille knew Travis… at one stage he was pouring his soul out to her at the bar and I'm just like… hang on, how do they know each other again? The twist at the end also made no sense to me. I apparently need to go back and read Beautiful Disaster and Walking Disaster.
There were a lot of secondary characters in this story. Most of them were introduced in the first 20 pages – a best friend, her boyfriend, her ex-boyfriend, four brothers… so many characters! None of which brought much to the plot.
The plot in itself was pretty choppy. I thought it was really random that halfway through it was suddenly brought up that Cami had this secret that was going to break her and Trenton up. Being written in first person, wouldn't she have been agonising over this from the beginning?
What I liked about it:
Jamie McGuire is really good at creating "moments". Her characters are likable and every now and then she'll craft a sentence or paragraph or page that is so visual you could almost be there.
"Where's Trent?"
"Outside, I think," I said, yawning.
Raegan stomped out to the living room, and then back to my room. "He's sitting on the ground outside out window playing Flappy Bird on his cell phone."
I nodded.
"It's thirty-three degrees outside."
"Good," I said, sitting up. "I wish it were sleeting."
Raegan's face screwed into disgust. "He waved at me like it was the most normal thing in the world. What the hell is going on?"
All in all, this was no where near as good as Beautiful Disaster, but despite the confusion, it was enjoyable enough.
My Verdict – 3 stars, but slipping towards 2.5