Title: Branded, Book 1 in the Sinners Series
Author: Abi Ketner
Publisher: Month9Books
Genre: YA, Dystopian, Romance
Links: Book Depository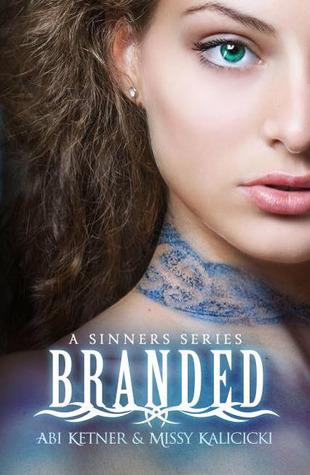 Blurb:
A teenage girl is accused of a crime she didn't commit, and is forced to live in The Hole, a place where all criminals are forced to endure human horrors. All hope seems lost, until she falls in love with her captor, a crime punishable by death.
Why I picked it up:
I requested this on NetGalley because it was right up there with the most requested novels. The cover looked interesting and the ratings on GoodReads were good, so I decided to give it a go.
What I didn't like about it:
This book was so disappointing. The first half was AMAZING! I loved every second of it. But the middle section… meh. Cole suddenly felt really out of character, like a different version of himself. He and Lexi were both overly dramatic – punching walls, shattering picture frames, crying, and smacking tables and mattresses. I mean, geez guys, get it together.
Amidst all of the dramatics was gag-worthy fluff. It was just… too much.
My body shakes… My brain and my heart are at war… life is too precious… I could never live with myself if anything would happen to you… a chill shakes my being… I breathe him in… my body shakes…
All of that within a page or two! It was cliché and awful. Like a different book. For a story that started so well, by page 172 I was like… what happened? The romance just kicked off way too fast. Like, BANG they're in love and can't live without each other.
What I liked about it:
As mentioned above, the first half of this book was really good. It was visual, I loved the concept, it was gritty, dangerous, and the romance was perfect. Reading the first half, my rating was 4 stars or above.
It sucks that it didn't last.
My Verdict – 2 stars