Title: Maybe Someday
Author: Colleen Hoover
Publisher: Atria Books (Simon&Schuster)
Genre: New Adult, Contemporary, Romance
Links: Book Depository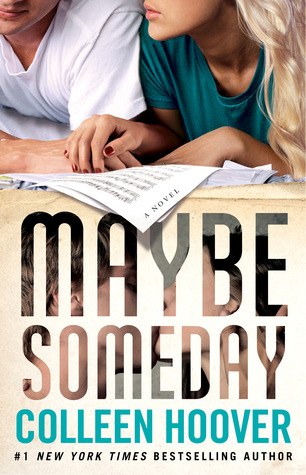 Blurb:
At twenty-two years old, aspiring musician Sydney Blake has a great life: She's in college, working a steady job, in love with her wonderful boyfriend, Hunter, and rooming with her good friend, Tori. But everything changes when she discovers Hunter cheating on her with Tori—and she is left trying to decide what to do next.
Sydney becomes captivated by her mysterious neighbor, Ridge Lawson. She can't take her eyes off him or stop listening to the daily guitar playing he does out on his balcony. She can feel the harmony and vibrations in his music. And there's something about Sydney that Ridge can't ignore, either: He seems to have finally found his muse. When their inevitable encounter happens, they soon find themselves needing each other in more ways than one…
Why I picked it up:
This book has some amazing reviews on GoodReads.
What I didn't like about it:
To be fair… I feel like my review is bias because I read this book straight after Archer's Voice and they tackle similar subject matter. The love interest in this and the love interest in Archer's Voice both have the same disability, and quite frankly, Archer's Voice did it better. Reading this book felt a little "been there done that" so I suppose I'm not the most objective person to give this book a review.
My main drama with this book was the writing style. I felt like it wasn't emotive enough. Sydney and Ridge communicated via text message and it took a little getting used to. There were heaps of "info dumps" via text message, especially in the second half and I found myself skimming over them.
This book also covered my most hated topic – emotional cheating and cheating in general. I don't have a lot of time or patience for indecisive characters and this book was full of them.
What I liked about it:
Once it hit its stride, this book actually worked pretty well. For 285-page novel, I flew through the first half pretty quickly.
I liked the cast of characters – they were well developed and interesting. I also enjoyed the progression of the plot because I love a doomed romance. By page 197 I was literally convinced that the romance was never going to work. It isn't often that an author achieves that. Usually you know without a doubt that the romance will work out if the characters just got over themselves, but with this one, I literally couldn't see the characters overcoming the obstacle, which was awesome.
My Verdict: 2.5-3 stars.
It was enjoyable but nothing to write home about. Archer's Voice did it better. Archer's Voice was a NA story that felt adult. This is a NA story that feels YA.