Title: Belzhar
Author: Meg Wolitzer
Publisher: Simon & Schuster
Genre: YA, Fantasy
Links: Book Depository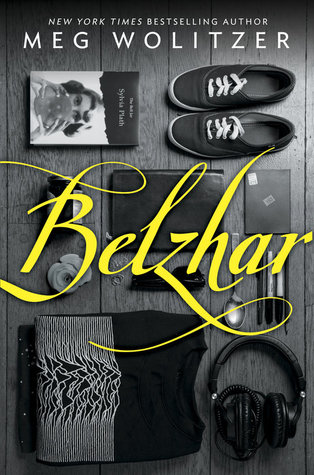 Blurb:
I was sent here because of a boy. His name was Reeve Maxfield, and I loved him and then he died, and almost a year passed and no one knew what to do with me.
A group of emotionally fragile, highly intelligent teenagers gather at a therapeutic boarding school where they are mysteriously picked for 'Special Topics in English'. Here, they are tasked with studying Sylvia Plath's The Bell Jar and keeping a journal.
Each time the teens write in their diaries they are transported to a miraculous other world called Belzhar, a world where they are no longer haunted by their trauma and grief – and each begins to tell their own story.
Why I picked it up:
This book was sent to me by Simon & Schuster in exchange for an honest review.
What I didn't like about it:
My main drama with this book was the large "telling" sections. In a nutshell, this book follows five students who come together to share their traumatic experiences with each other. And by share their traumatic stories, I mean, sit around in a circle and tell each other in a very dialogue heavy, drawn out, type of way. Those sections were pretty tedious to read.
I was also really amused by the odd names in this book! Jamaica… DJ… Kawabata… The Wooden Barn… Gooseberry Lane… the list goes on.
The writing isn't particularly visual. I was 30 pages in and still had no clue what Jam or The Wooden Barn looked like. As a result, the book didn't start to hit its groove until page 50. It took me that long to warm to the characters and setting.
What I liked about it:
Despite the lack of visual description, I thought the writing was beautiful. The author says things like:
… his voice sounded like a lit match being held to the edge of a piece of brittle paper. It just exploded in a quiet burst.
And:
He was like a long beaker in a Chemistry class, and the top was always bubbling over because some interesting process was taking place inside.
And:
She sits up straight in her chair with the best posture I've ever seen on a creature that isn't a sea horse.
I also liked that the story was written in a way that never stayed in the present. It flicked back into the past and switched between first person present tense and first person past tense, which I thought was really cool. I've never seen two tenses flow like that.
Mostly, I really liked how the majority of the story was set around the idea of journaling. I've kept a diary since I was 11 and write in it religiously, so I appreciated the theme that journaling can be very therapeutic.
As a matter of fact, the themes in general were interesting. Depression, grief, trauma, regret… and how delusion can play a role in dealing with those emotions. And then in the end, the realisation that when we lose something, and we are grieving, it isn't necessarily the past we're losing, but the hope of a future.
My Verdict: 3 stars.
This story definitely stood apart from others in the genre. I found it really unique.