Title: Boy Nobody
Author: Allen Zadoff
Publisher: Orchard Books (Hachette)
Genre: YA, Crime, Contemporary
Links: Book Depository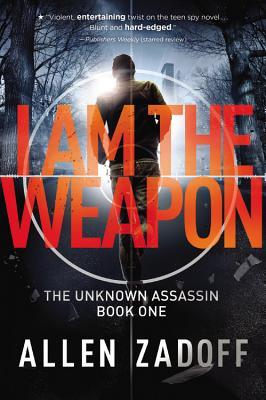 Blurb:
Who is boy nobody?
The perennial new kid at school: new town… new name… new mission.
The perfect assassin: kill your target and move on. No fear. No sympathy. No remorse.
But this time is different. The stakes are deadlier. The memories are surfacing. And Boy Nobody is about to find out who he really is.
Why I picked it up:
This book was sent to me from Hatchette in exchange for an honest review.
What I didn't like about it:
This isn't the type of book I'd usually read. I tend to avoid YA novels with male protagonists. I also tend to avoid YA novels written by male authors. Why? Because I like my YA fiction nice and fluffy, and I find that YA fiction written by men is more direct. And while there isn't anything wrong with that, because of my tastes, this book was never going to be a 5 star read for me.
What I liked about it:
Despite all of that above, I actually really enjoyed this book. The chapters were short and snappy, the writing style was clean and to the point. I thought the story was interesting and Zach was a very intriguing character. I liked reading about how he perceived the world. He'd had such an odd childhood, so seeing him react to situations was really cool.
I thought the story ended well, and overall, it was a really quick and different sort of read. I'd sort of love to read a sequel.
Would I read this book again? No, probably not. But for what it was, I really enjoyed it. I enjoy stepping out of my "reading comfort zone" from time to time.
My Verdict – 3.5 stars