Title: Isla and the Happily Ever After
Author: Stephanie Perkins
Publisher: Dutton (Penguin)
Genre: YA, Contemporary, Romance
Related: Anna and the French Kiss & Lola and the Boy Next Door
Links: Book Depository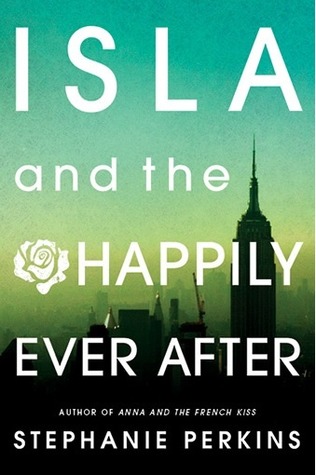 Blurb:
Hopeless romantic Isla has had a crush on introspective cartoonist Josh since their first year at the School of America in Paris. And after a chance encounter in Manhattan over the summer, romance might be closer than Isla imagined. But as they begin their senior year back in France, Isla and Josh are forced to confront the challenges every young couple must face, including family drama, uncertainty about their college futures, and the very real possibility of being apart.
Why I picked it up:
I've read Anna and the French Kiss and Lola and the Boy Next Door. This is the last in the series. I also read it as part of the Isla Is Coming Readalong.
What I didn't like about it:
Josh and Isla have something different to what Anna and Lola had in their books. I think because they got together so quickly (by page 50) their relationship felt more like dramatic puppy love. I never felt like they were truly in love. I didn't believe it.
While I enjoyed the first half of this book, by the second half… I don't know, I just wasn't rooting for Isla and Josh in the end. The conflict between them felt really random, like… unnecessary. It stemmed from Isla's self-doubt, but I never really saw that self-doubt until the conflict went down, so it felt really random to me.
I suppose my main drama is that with Anna/St Clair & Isla/Cricket, I really felt like their love would last forever despite their young age. I give Isla and Josh a year tops. They were desperately in love so quick. I can't see it lasting.
What I liked about it:
I really enjoyed the first half of this novel. The book, starts cute. Isla was such a little Josh fangirl. I wanted to pat her head and encourage her to write fanfiction, or something.
As with all Stephanie Perkins books had some great one-liners and great writing:
So then I did the thing that I swore to myself I would never do. I Googled his home address. The waves of my shame were felt across state lines.
&
The next few days are unsettling.
Josh is aware of me.
Whenever he enters a room, an unmistakable mass of chaotic energy enters with him. It rattled the air between us. It buzzes and hums. And every time we surrender – every time our eyes meet in a flash of nerves – a shock wave jolts throughout my entire system. I feel frayed. Excited. Unravelled.
And then… I'll lose the transmissions. His signal will go cold.
I don't understand what's happening.
In calculus and physics, we're separated by alphabetical order. In English, we're stuck where we sat the first day, on opposite sides of that circle. But our Government teacher waited until today, Thursday, to pass out his seating chart. Josh arrived late, saw it being handed around, and sat down beside me. Just like that.
He still hasn't said a word.
My Verdict – 3 stars