Title: Heir of Fire, Book 3 in the Throne of Glass series
Author: Sarah J Maas
Publisher: Bloomsbury
Genre: Young Adult, Fantasy, Kingdoms
Links: Book Depository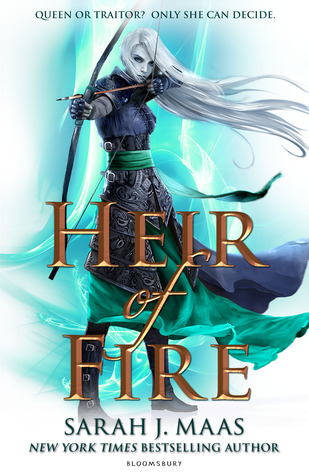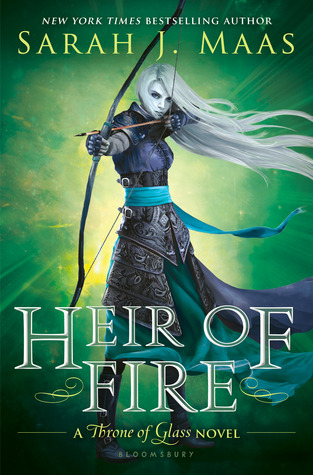 Blurb:
Lost and broken, Celaena Sardothien's only thought is to avenge the savage death of her dearest friend: as the King of Adarlan's Assassin, she is bound to serve this tyrant, but he will pay for what he did. Any hope Celaena has of destroying the king lies in answers to be found in Wendlyn. Sacrificing his future, Chaol, the Captain of the King's Guard, has sent Celaena there to protect her, but her darkest demons lay in that same place. If she can overcome them, she will be Adarlan's biggest threat – and his own toughest enemy.
While Celaena learns of her true destiny, and the eyes of Erilea are on Wendlyn, a brutal and beastly force is preparing to take to the skies. Will Celaena find the strength not only to win her own battles, but to fight a war that could pit her loyalties to her own people against those she has grown to love?
Why I picked it up:
I read and loved the first two books in the Throne of Glass series. This instalment was sent to me from Bloomsbury in exchange for an honest review.
My Thoughts:
I've said it before, and I'll say it again… I am not a high fantasy fan. At all. But this series is a massive exception.
It took me about a chapter to sink back into the story because high fantasy is always so wordy! As a reader who devours a lot of contemporary romance, high fantasy always takes a little getting used to.
But I loved this novel. Sarah J Maas has such a talent for creating characters that fly off the page. I love, love, loved Rowan (who is new to this book), and also Sorscha. As always, Celaena is a favourite of mine – I mean, what an excellent and real character! I love her personality. It's so accurate of everything she has been through.
The only things I disliked about this novel were:
A. Duel perspective is an interesting one for me, because there is always one POV I end up enjoying more. In this case, I loved reading about Celaena and also Sorscha, but I wasn't as big on Manon. I took a while to warm to her.
B. I don't know why… but I thought this was a trilogy. Turns out, it's a set of 6. Now I have to wait a year for the next one to come out! Damn unfinished series!
My Verdict – 4 stars
Two days ago I celebrated my one-year blogiversary. To celebrate, I'm giving away a $20 gift voucher to a random individual who commented on this post. I used the Random Number Generator to determine the winner.
And the winner is… *drum roll*
Comment 23 – Canaf! Congratulations!
Please contact me via my contact page to collect your $20 gift voucher to either Amazon or the Book Depository.