Title: Solitaire
Author: Alice Oseman
Publisher: Harper Collins
Genre: Young Adult, Contemporary
Links: Book Depository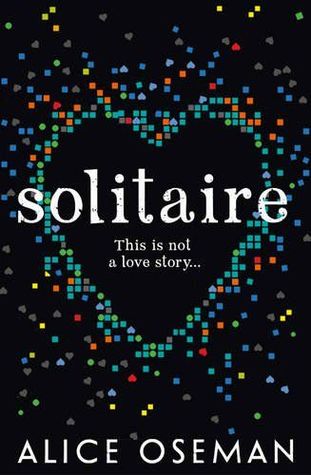 Blurb:
My name is Tori Spring. I like to sleep and I like to blog. Last year – before all that stuff with Charlie and before I had to face the harsh realities of A-Levels and university applications and the fact that one day I really will have to start talking to people – I had friends. Things were very different, I guess, but that's all over now.
Now there's Solitaire. And Michael Holden.
I don't know what Solitaire are trying to do, and I don't care about Michael Holden.
I really don't.
Why I picked it up:
I'd seen this one around online and was intrigued to know what it would be like considering the author signed her book deal when she was 18. I'm always interested to see what young authors are producing, and for the most part, I haven't been disappointed.
What I didn't like about it:
This was a novel with a lot of good qualities and a lot of bad qualities. I loved some things about it, but others… not so much.
The pace was slow. Especially once I settled into the author's writing style. The style was a novelty at first, but smart writing can't fix a slow plot. Because nothing really happened for 90% of the book… I didn't care for the "Solitaire" side of things, so the last two or three chapters were pretty skim-worthy for me.
Mixed in with the barely there plot was Tori, who I was torn between loving and hating. She wasn't the most likable of characters. I generally like my MCs with a bit of fire and passion. Tori cares about nothing. Absolutely nothing. Her personality sort of reminded me of Cath from Fangirl. They have the same hermit, anti-social, kind of pathetic sort of demeanours. Tori has a lot more self hate though.
What I liked about it:
First of all… on page 5, Draco/Harry and their potential fictional relationship was mentioned… As a former fanfiction lover and occasional Drarry shipper (although Dramione will always come first in my eyes) I was immediately, without a doubt, in love with this novel.
The best thing was Tori's self-deprecating humour. The book is executed with the sort of relevance that can only be achieved by a girl who wrote it at 18-years-old. It actually makes me think that we should leave YA writing to those who are actually young adults, not just adults trying to remember what it was like to be YA. Which is a weird thing to think, because I'm 27 and I write YA…
There is just so many relevant moments in this book. I found myself picking up a highlighter and attacking them. For example:
Having a boy in your social group is the equivalent of having a house with a pool, or a designer shirt with the logo on it, or a Ferrari. It just makes you more important.
and…
There's one long window stretching the length of the far wall, and the computers in here are bricks. Solid cubes. Apparently, I've time-travelled to the 1990s.
I feel like this novel is very relevant. Very accurate of the current generation of teens. I really appreciated it.
My Verdict – 3 stars