Title: Talon, Book 1 in the Talon Series
Author: Julie Kagawa
Publisher: Harlequin Teen
Genre: Urban Fantasy, Dragons, Romance
Date Read: 10 August 2014
Links: Book Depository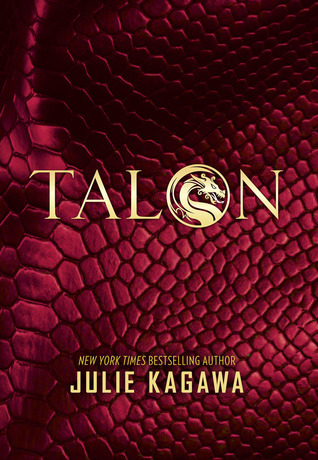 Blurb:
Long ago, dragons were hunted to near extinction by the Order of St. George, a legendary society of dragon slayers. Hiding in human form and growing their numbers in secret, the dragons of Talon have become strong and cunning, and they're positioned to take over the world with humans none the wiser.
Ember and Dante Hill are the only sister and brother known to dragonkind. Trained to infiltrate society, Ember wants to live the teen experience and enjoy a summer of freedom before taking her destined place in Talon. But destiny is a matter of perspective, and a rogue dragon will soon challenge everything Ember has been taught. As Ember struggles to accept her future, she and her brother are hunted by the Order of St. George.
Soldier Garret Xavier Sebastian has a mission to seek and destroy all dragons, and Talon's newest recruits in particular. But he cannot kill unless he is certain he has found his prey: and nothing is certain about Ember Hill. Faced with Ember's bravery, confidence and all-too-human desires, Garret begins to question everything that the Order has ingrained in him: and what he might be willing to give up to find the truth about dragons.
Why I picked it up:
I'm a huge fan of The Iron Fey series. I didn't like the Blood of Eden series as much, but Julie Kagawa is still one of my favourite authors. I requested this one the second I saw it pop up on NetGalley.
What I didn't like about it:
To be honest, this was nothing like what I expected. I didn't read a blurb coming into it so I was expecting a high fantasy set in a kingdom with dragon riders. Instead, I got a story set in California with dragon shifters pretending to be human. I was vaguely disappointed. I was hoping for something really rich and medieval. Instead, I got something light and fluffy with surfing, a smoothie shack, shopping and a fairground… not exactly what I wanted, but all good.
My main drama with this novel was that the middle section dragged. The book is 400 pages long, and around page 200 to 300, it dragged, dragged, dragged. Amidst all that dragging, I realised that Julie Kagawa really likes her adverbs. There was a lot of smiling, grinning, giggling, laughing, smirking, glowering, blinking, flushing, wincing and nodding. There was also a lot of Ember obsessing over Garret's eyes – mercury gaze, piercing stare, eyes playful, metallic eyes… it went on and on.
Speaking of Ember and Garret. I wasn't a huge fan of them. I found them a little tedious. Their interactions were repetitious with plenty of jolting touches, rush of warmth's, twisty sensations, heart stutters, stomach flipping, curls of heat… gag.
Yeah… point being, in that middle section, my rating was down to two stars. Particularly considering that as a whole, the plot isn't all that original. Take out the dragons and it's like any other 'something isn't right with [insert corporation]' dystopian.
What I liked about it:
Luckily, the book started well and ended well! About ¾ of the way through the pace picked back up.
For the most part, I really enjoyed Talon. I liked the action and the intrigue. The plot moved at a nice pace and revealed everything at the right time. The characters were interesting and the story kept me reading, reading, reading. It finished amazingly strong and despite the dragging middle, it was a solid start to the series!
My Verdict – 4 stars