Title: Foreplay, Book 1 in the Ivy Chronicles
Author: Sophie Jordan
Publisher: Harper Collins
Genre: New Adult, Romance, Erotica
Links: GoodReads | Book Depository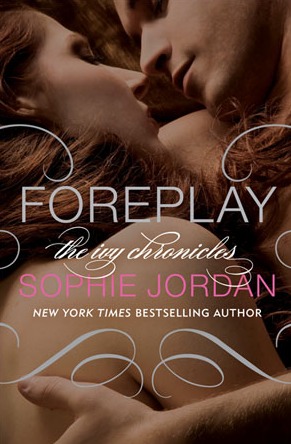 Blurb:
Pepper has been hopelessly in love with her best friend's brother, Hunter, for like ever. He's the key to everything she's always craved: security, stability, family. But she needs Hunter to notice her as more than just a friend. Even though she's kissed exactly one guy, she has just the plan to go from novice to rock star in the bedroom—take a few pointers from someone who knows what he's doing.
Her college roommates have the perfect teacher in mind. But bartender Reece is nothing like the player Pepper expects. Yes, he's beyond gorgeous, but he's also dangerous, deep—with a troubled past. Soon what started as lessons in attraction are turning both their worlds around, and showing just what can happen when you go past foreplay and get to what's real…
Why I picked it up:
From memory, I spotted it on a GoodReads Listopia list… I think… Or maybe it was recommended on a blog… Either or, it ended up on my "to-read" list.
What I didn't like about it:
*Crickets chirping*
What I liked about it:
Oh my god. I read a lot of subpar books. Too many subpar books. But there is a reason I wade through awful books… because every now and then, I stumble upon a gem like Foreplay, and all of those crappy books were totally worth it!
Foreplay just sucked me in. I found the characters really vivid and endearing. Within chapters I felt like I knew them and what they were about. The plot moved well, the pace was good, and the tension and passion between Pepper and Reece was… oh my god, I was literally having arm flapping moments. Like this:
The writing is quite descriptive and musical. Sophie Jordan creates sentences like: Smoke billowed up from beneath the hood of my car in great plumes, a gray fog on the dark night.
Come to think of it, this book had a lot of awesome writing moments. Things like:
Emerson bounced onto the bed beside me. "What's the plan?"
I blinked at her and held out a hand helplessly. "I don't have a plan." The plan was for him to fall in love with me. That was the dream. That's what happened in romance novels. Somehow. Some way. That was supposed to happen. I never quite knew how it was going to happen. Only that it would.
"What should I do?" I looked at them helplessly. "Drive over to his apartment and knock on his door and declare myself to him?"
Georgia cocked her head to the side. "Um. I'm going to go with no."
*
"God." I lifted my fingers and rubbed at the centre of my forehead where a dull ache was forming.
She patted my back. "I know. It's hard being a girl who actually emerges from her dorm room and talks to sexy boys.
*
The activity in the bar was a low, steady drone beneath us. Like the rumbling from the belly of a beast. For all that it reminded me that there were people below us, we might as well have been on a deserted island. We were well and truly alone. It was just me and him. Us.
*
He slept with one arm flung above his head, the other tossed out carelessly at his side. At least he no longer hugged me like some kind of favorite pillow. I was free.
*
I just wanted to see him. I didn't need him to see me. Actually I didn't want him to notice me at all. Seeing him was some kind of deep, compulsory desire that I had to feed.
*
I was freaking out, but I had never counted on seeing him again. Stupid, I guess, thinking that he limited his life to the bar. Of course he did other things. He ran every morning. Played soccer and coached a boys' league. Fixed the Campbells' sink and whatever else broke in their house. He was out there, coexisting in the same world with me.
All in all, an excellent addition to the NA genre. Loved it. Can't wait to start the second in the series!
My Verdict – 5 stars