Title: All The Bright Places
Author: Jennifer Niven
Publisher: Penguin
Genre: Young Adult, Contemporary, Romance, Issue: suicide
Links: Book Depository | GoodReads | Amazon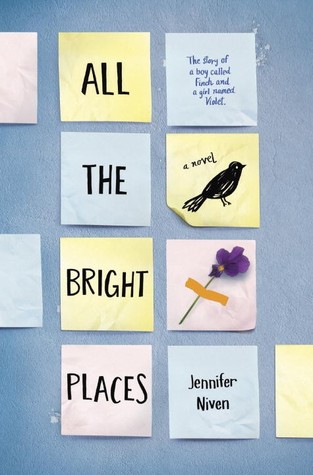 Blurb:
Theodore Finch wants to take his own life.
Violet Markey is devastated by her sister's death.
They meet on the ledge of the school bell tower, and so their story begins. It's only together they can be themselves…
But, as Violet's world grows, Finch's begins to shrink. Can they save each other through their words and wanderings – and the magic of their love?
Why I picked it up:
This book was sent to me from Penguin in exchange for an honest review.
What I didn't like about it:
Usually I have a lot to say about novels. I generally get a chapter or so in and I'm making notes about the characters, the setting, what I like and what I don't like. But with this book, I was 100 pages in and had nothing to say. Nothing jumped out at me. I wasn't loving it, or hating it… I hadn't made any notes, I hadn't highlighted any outstanding passages, and I hadn't fallen in love with any of the characters… I was completely unemotional about it.
I probably didn't start to warm to the characters until around page 200. And it wasn't until the last quarter of the novel that the story really started to redeem itself.
What I liked about it:
Probably the best part of this book is the last quarter. Despite a slow start, All The Bright Places covers some really relevant subject matter. I sometimes accuse YA novels of being way too shallow, but this book had some really great, important content.
While I didn't find the characters or the plot engaging, it was beautifully written. Jennifer Niven clearly has a love for words.
In short, this book took forever to get started, but it finished well.
My Verdict – 3 stars