Title: A Thousand Pieces of You, Book One in the Firebird series
Author: Claudia Gray
Publisher: Harper Teen (Harper Collins)
Genre: Young adult, science fiction, time travel
Links: Book Depository | GoodReads | Amazon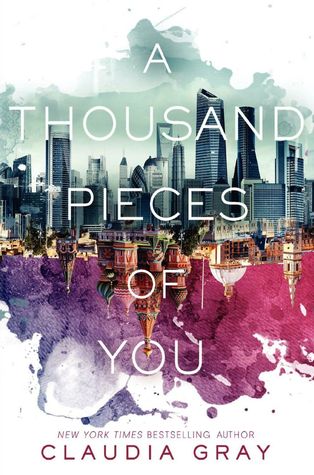 Blurb:
Marguerite Caine's physicist parents are known for their radical scientific achievements. Their most astonishing invention: the Firebird, which allows users to jump into parallel universes, some vastly altered from our own. But when Marguerite's father is murdered, the killer—her parent's handsome and enigmatic assistant Paul—escapes into another dimension before the law can touch him.
Marguerite can't let the man who destroyed her family go free, and she races after Paul through different universes, where their lives entangle in increasingly familiar ways. With each encounter she begins to question Paul's guilt—and her own heart. Soon she discovers the truth behind her father's death is more sinister than she ever could have imagined.
Why I picked it up:
This book was sent to me from Harper Collins in exchange for an honest review.
What I didn't like about it:
It could have been easy to go into this book with high expectations, because look at that cover! It's gorgeous. But I went into it with a healthy dose of scepticism… primarily because I've read Evernight by Claudia Gray, and I wasn't a fan.
The book started with some pretty solid info dumps and I was immediately unsure whether I liked the writing style. It felt passive and detached, despite being written in first person, present tense. Some of the descriptions were gorgeous, but the first ¼ of the book failed to really grab me. I kept putting it down and picking it back up.
I finally sat down around page 80 and committed to reading it in one big stint. By page 84 my attention was wandering. I think the problem was that the book launched into a revenge mission without taking the time to explain why I should care. Okay, so someone killed your dad and you're on a revenge mission… that's fine, but give me a reason to care about it. The initial emotion felt as clinical as the science fiction world the characters lived in.
It wasn't until about page 100 that I finally sank into the story. I came to understand the characters, the world, and what was going on. I just needed those 100 pages to relax into the story and the writing style.
I guess my main issue with this book was the characters. Rich and well developed characters that fly off the page are one of the main things I look for in books. Great characters can make me love a novel, even if the plot or world or structure isn't great… but Marguerite, Paul and Theo were so flat to me. I couldn't relate to them at all. It wasn't until Paul came into the picture that I felt like they came to life. But even then… this novel took me forever to read.
What I liked about it:
Despite all of the above, this book had some redeeming qualities. I thought the "world" was really interesting and unique. I was particularly impressed by the idea that when you jump into another dimension, you don't just jump as yourself, but materialise into another "version" of yourself. I thought the possibilities of that were endless, because you'd never know who you were jumping into. In a sense, it's you, but with different personalities, hobbies, priorities, jobs, settings. Very cool.
I thought the best part of this book was the middle section. When Marguerite and Paul jumped into the Russian setting. I really liked that part. The other worlds didn't grab me as much, which sucks, because I really wanted to like this.
My Verdict – 2 stars. I wanted to give it a 3, but stopping and starting as much as I did is the sure sign of a 2 star book for me.