Title: Black Ice
Author: Becca Fitzpatrick
Publisher: Simon & Schuster
Genre: Young Adult, Contemporary, Mystery, Romance
Links: Book Depository | GoodReads | Amazon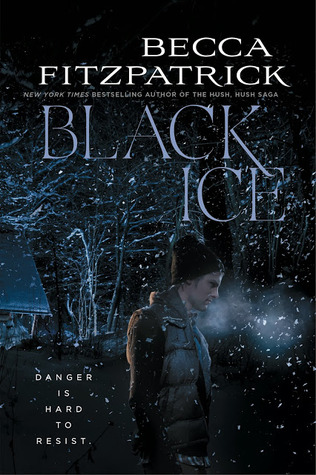 Blurb:
Britt Pfeiffer has trained to backpack the Teton Range, but she isn't prepared when her ex-boyfriend, who still haunts her every thought, wants to join her. Before Britt can explore her feelings for Calvin, an unexpected blizzard forces her to seek shelter in a remote cabin, accepting the hospitality of its two very handsome occupants—but these men are fugitives, and they take her hostage.
In exchange for her life, Britt agrees to guide the men off the mountain. As they set off, Britt knows she must stay alive long enough for Calvin to find her. The task is made even more complicated when Britt finds chilling evidence of a series of murders that have taken place there… and in uncovering this, she may become the killer's next target.
But nothing is as it seems in the mountains, and everyone is keeping secrets, including Mason, one of her kidnappers. His kindness is confusing Britt. Is he an enemy? Or an ally?
Why I picked it up:
This book was sent to me from Simon Schuster in exchange for an honest review.
What I didn't like about it:
I went into this book with a lot of reservations. In part, because my average rating for Becca Fitzpatrick on GoodReads is 2.5, but mostly, because this book has some really bad reviews.
Right away, within the first few chapters, it's easy to see what everyone is complaining about. Britt and Korbie are not likeable characters. Reading about them brought words to mind like petty, thoughtless, naïve, rude, selfish, spoilt, and shallow… Not to mention Britt is a compulsive liar and thinks the world revolves around her.
Even when I managed to get past those things… Britt just wasn't a very interesting character. Aside from being obsessed with an ex that cheated on her and basing her decisions around 'you said I can't, so I will anyway'… she's just sort of… nothing. There isn't anything there. I had no empathy for her whatsoever, despite her situation.
The writing was repetitive. Britt would think the same things over and over, and after a while it was like yeah, I got it, thanks. The pace was pretty slow. The plot was predictable and midway through, I started to get bored. The writing style didn't have enough diversity, and the constant break of dialogue to hear what Britt was thinking broke the flow.
What I liked about it:
Despite all of the above, I actually found myself getting caught up in the "mystery" of the story in the first half of the book. Some sections were pretty creepy and I found myself turning on all the lights in the house to run from my bed to the bathroom a couple of times.
My Verdict – 2 stars