Title: Atlantia
Author: Ally Condie
Publisher: Penguin
Genre: Young adult, fantasy, underwater kingdom, sirens
Links: Book Depository | GoodReads | Amazon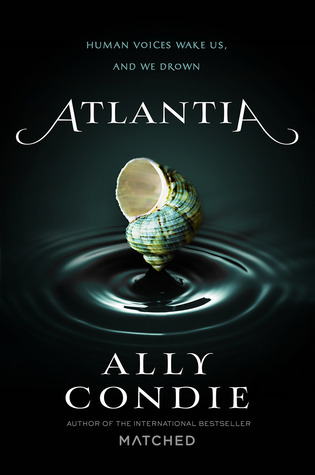 Blurb:
For as long as she can remember, Rio has dreamt of the sand and sky Above—of life beyond her underwater city of Atlantia. But in a single moment, all her plans for the future are thwarted when her twin sister, Bay, makes an unexpected decision, stranding Rio Below. Alone, ripped away from the last person who knew Rio's true self—and the powerful siren voice she has long hidden—she has nothing left to lose.
Guided by a dangerous and unlikely mentor, Rio formulates a plan that leads to increasingly treacherous questions about her mother's death, her own destiny, and the complex system constructed to govern the divide between land and sea. Her life and her city depend on Rio to listen to the voices of the past and to speak long-hidden truths.
My Thoughts:
To be honest, I'm not a huge fan of "underwater city" concepts. I've read a couple before and they've all been a little meh. And frankly, Atlantia feels similar to all the others.
Straight away I knew this book wasn't for me, because I couldn't connect with the main character, Rio. I couldn't figure out who she was. All she seemed to care about was her mother, sister, and going Above. I was killing for a little bit of substance and personality from her, but I got nothing.
I also got next to nothing from the plot. It just didn't grab me. I would have loved a little more sub-plot, but it just felt so one track minded – getting Above and swimming to earn money and some estranged relationship with a Siren aunt. There was never any plot twists to mix it up. It sort of felt like a broken record after a while. Especially since it moved so slow. Dialogue was always followed by a couple of lines of narrative to explain the dialogue. Every single thing was spelt out, I would have liked to come to my own conclusions instead of having everything explained.
Overall, the world building was nice, but this was just so… boring. I got about a quarter of the way through and then had to force myself to speed-read through the rest.
My Verdict – 1.5 stars