Title: Three Amazing Things About You
Author: Jill Mansell
Publisher: Hachette
Genre: Adult, Romance, Chick-Lit
Links: Book Depository | GoodReads | Amazon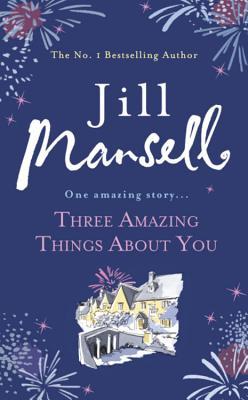 Blurb:
Hallie has a secret. She's in love. He's perfect for her; he's even single. But he's out of bounds. And her friends aren't going to help her because what they do know is that Hallie hasn't got long to live.
Flo has a dilemma. She really likes Zander. But his scary sister won't be even faintly amused if she thinks Zander and Flo are becoming friends – let alone anything more…
Tasha has a problem. Her new boyfriend is the adventurous type. And she's afraid one of his adventures will go badly wrong.
THREE AMAZING THINGS ABOUT YOU begins as Hallie goes on a journey. She's about to get a new heart. But whose heart is it?
Why I picked it up:
This book was sent to me from Hachette in exchange for an honest review. It will be released January 15.
My Thoughts:
I don't think I've actually read a Jill Mansell novel before, which is ridiculous because her list of works is really long! And also, I enjoy her writing style. It's light, fresh, and to the point.
I found the characters really interesting and engaging. I can't actually remember the last time I read about characters my own age since I read so much YA fiction. So reading about 28-year-old's dating and searching for love was really nice. I felt like I was reading about my people!
In short, this is a pretty massive chick-lit. It was light, filled with romance, the characters were fun, and the plot was interesting. It was nothing to write home about, but it was a nice way to kick off 2015.
My Verdict – 3.5 stars