Today's featured author is Rachel, who is the author of the Colorworld Series. A big thank you to Rachel for answering my questions!
Title: Colorworld
Author: Rachel E Kelly
Publisher: CreateSpace
Genre: Science Fiction, Romance
Links: GoodReads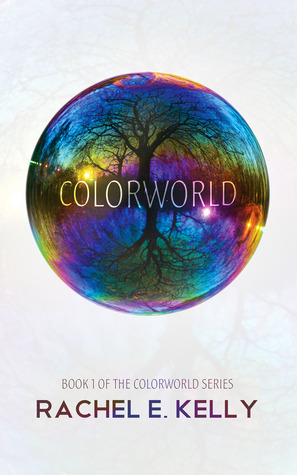 1. Tell us a little bit about the Colorworld series.
The series is a believable superhero story. Unlike your typical superhero story, Colorworld explores the implications of enhanced human ability on this world as it is, rather than on problems and evils that don't actually exist. I feel like we've outdone ourselves on the idea of fantastic superpowers, and the real "creativity" of such stories is now the villain. Yet beneath this layer of the fantastic, we see that the world still has the same problems of poverty, crime, natural disasters, wars, etc. At the end of the latest superhero movie, we see a unique evil threat eradicated, but our same world problems remain. Is it because we believe those problems will always be with us? Colorworld deals with that question, as well as digging deeper, asking what enhanced human ability would do to change humanity as a whole. I daresay that we would all be shocked at the reality it would create. The Colorworld Series tells this story.
2. Where do you get your ideas from?
Where don't they come from? I have hundreds of ideas I have written down and thousands I have not. My ideas filter from anywhere, from a bumper sticker to a history fact. The real inspiration I seek, one that turns an idea into an actual story, are characters. They are the stuff that people care about. So I spend a lot of time observing people and trying to understand them. I enjoy diverse opinions, cultures, and lifestyles. I love seeing how one culture's "normal" is another culture's outrage. So I guess the real answer to this question is people. Their uniqueness births all kinds of stories.
3. Any advice for aspiring authors?
Stop stressing over perfection. The number one excuse I hear from people who are in the middle of writing a book (and usually have been for years) is that they are stumped by not being able to "get it right" or they keep fiddling with things to the point of permanent frustration. Just write it like no one will ever read it, holding nothing back. All the way through. And then re-write it and don't be afraid to chop more than you keep. This is the most helpful process I can think of.
4. What is the hardest thing about writing?
Publishing. If you have done it (writing) right, you have exposed yourself in embarrassing and vulnerable ways. Putting that out there for the world to see is a constant roller coaster of emotion.
5. What are your goals for the future?
Publish something outside of the Colorworld Series WHILE putting out the rest of the books in the series. I'm afraid of mixing up my stories if I write them too close together 🙂 But I want to do it because I'm anxious for the opportunity to increase my elasticity as a writer.
6. What are your favourite writing resources?
I recommend making a continual study of non-fiction. It is the basis for all good fiction.
"On Writing Well" By William Zinsser is my favorite guide to that.
Get your hands on a non-fiction anthology to read, and then try your hand at various styles as an exercise. "Touchstone Anthology" is my go-to.
For technical questions, Grammer Girl is my source of choice.
7. What are you working on right now?
Editing Book 4 of the Colorworld Series, Shadoworld
Writing short Colorworld companion stories. We hope to announce these and put them in the hands of fans soon!
8. What is your favourite book?
I'm going to list three with a quick expiation:
Madeleine L'Engle's Time Quintet – She combined science, fantasy, and philosophy in such a seamless and believable way that broadened the horizons of my young mind more than any other book I read as a kid.
All Quiet on the Western Front – I stopped seeing good and evil in terms of black and white after I finished this book and it changed my perspective on everything forever after.
The Great Divorce – So much truth in such a small little novel. I have read this innumerable times and love it each time. Epigraphs for book 2 and 3 in the series are quotes from this book.