Title: A Little Something Different
Author: Sandy Hall
Publisher: Swoon Reads (Macmillan)
Genre: Young Adult, Contemporary, Romance
Links: Book Depository | GoodReads | Swoon Reads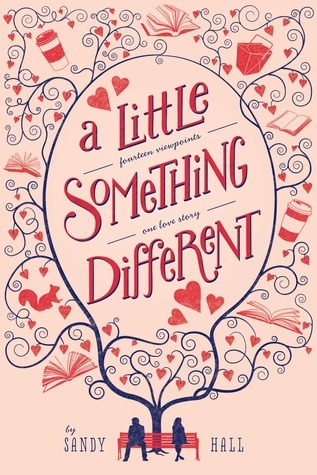 Blurb:
The creative writing teacher, the delivery guy, the local Starbucks baristas, his best friend, her roommate, and the squirrel in the park all have one thing in common — they believe that Gabe and Lea should get together. Lea and Gabe are in the same creative writing class. They get the same pop culture references, order the same Chinese food, and hang out in the same places. Unfortunately, Lea is reserved, Gabe has issues, and despite their initial mutual crush, it looks like they are never going to work things out.
But somehow even when nothing is going on, something is happening between them, and everyone can see it. Their creative writing teacher pushes them together. The baristas at Starbucks watch their relationship like a TV show. Their bus driver tells his wife about them. The waitress at the diner automatically seats them together. Even the squirrel who lives on the college green believes in their relationship.
Why I picked it up:
I saw this one recommended a few times on various book blogs. I think I purchased it… but I can't actually remember where or when. It must have caught my eye on a shelf somewhere.
My thoughts:
I read this book over a period of a week or so. I was really busy and distracted coming up to Christmas, so this was probably the perfect book for that. It was short, and easy to follow, with teeny-tiny chapters.
Lea and Gabe were unique characters. I liked their awkwardness and quirkiness. I also liked that this story was told in a really unique way – multiple point of views. I found it a little hard to follow at times, and a little confusing trying to remember which character I was reading from, but for the most part I thought this was a really unique and wonderful way to tell a story.
I like that everyone was so interested in Gabe and Lea's lives, like they were little beacons of light that no one could look away from. I really like that. It's funny how observations can bring people together. And how much can be communicated without really communicating at all.
This was a cute little read.
"Okay, Tab, tell me honestly. Have you been writing fanfiction about Starbucks customers?"
My Verdict – 3 stars