Title: Wild, Book 3 in the Ivy Chronicles
Author: Sophie Jordan
Publisher: Avon (HarperCollins)
Genre: New Adult, Romance, Contemporary
Links: GoodReads | Book Depository
Related Reviews: Foreplay, Book 1 in the Ivy Chronicles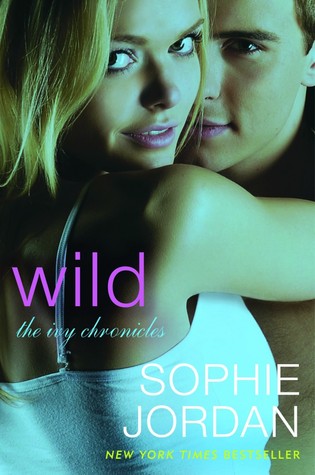 Blurb:
Months after her boyfriend dumped her, Georgia can still hear the insults he hurled at her. Boring. Predictable. Tame. Tired of feeling bad, she's ready to change her image, and go a little wild. What better way to prove her ex wrong than a hot night of sexual adventure at the secret campus kink club?
In the shadowy den of the kink club, she unexpectedly runs into Logan Mulvaney, her friend's little brother. A player extraordinaire too hot for his own good, he may be younger, but the guy is light years ahead when it comes to sexual experience. Now he's telling her to go home—"good girls" don't belong here!
Georgia is tired of having others define her. She's going to teach Logan a lesson he won't forget—one white hot, mind-wrecking kiss . . . that leads to another . . . and another . . . and. . . . Realizing she's way in over her head, Georgia runs.
Only Logan won't let her go. Everywhere she goes he's there, making her want every inch of him. Making her forget who she is. Who he is. And just how wrong they are for each other.
Why I picked it up:
I read (and adored) Foreplay, which was the first in the Ivy Chronicles series. I didn't like Tease, the second in the series anywhere near as much, but I thought I'd give Wild a go.
My Thoughts:
I have to be honest… I've read a lot of subpar books lately. A lot of two and three star reviews. But I knew the second I started reading Wild that it wasn't going to be a subpar novel, because it immediately provoked a reaction from me! I love reading a book that can provoke a physical reaction. Because this was me throughout the majority of this book:
Fortunately, the bathroom was unoccupied. I slipped inside, but didn't have a chance to shut the door all the way behind me.
It swung inward, and Logan slid inside before I fully realized what was happening. He locked the door behind him and leaned against it, crossing his arms over his chest. He loomed there, staring at me almost expectantly.
"What are you doing?" I demanded. "You can't be in here with me!"
"What are you doing with that tool?"
"I beg your pardon?"
"You heard me, Pearls. Did you bring him to make me jealous?"
Overall, I just love this series in general. The characters are so real – they fly off the page. Reading about them feels like I'm reading about a friend I used to know. They're extremely well developed.
I think the author herself summed it up nicely in her acknowledgements:
I can only say thank you for reading Foreplay, Tease, and Wild. I'm going to miss Pepper, Emerson, and Georgia maybe more than any characters I've written to date. And who could forget their guys: Reece, Shaw, and Logan? These girls felt like my girlfriends and the guys my buds. I hope you felt the same way, too.
I most definitely did. If you are a fan of the new adult genre, then give The Ivy Chronicles a go!
My Verdict – 4 stars | The Ivy Chronicles Series Verdict – 4 stars