Title: Sublime
Author: Christina Lauren
Publisher: Simon & Schuster
Genre: Young Adult, Fantasy, Ghosts
Links: GoodReads | Book Depository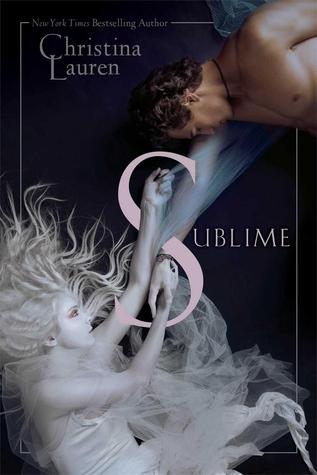 Blurb:
When Lucy walks out of a frozen forest, wearing only a silk dress and sandals, she isn't sure how she got there. But when she sees Colin, she knows for sure that she's here for him.
Colin has never been captivated by a girl the way he is by Lucy. With each passing day their lives intertwine, and even as Lucy begins to remember more of her life—and her death—neither of them is willing to give up what they have, no matter how impossible it is. And when Colin finds a way to physically be with Lucy, taking himself to the brink of death where his reality and Lucy's overlap, the joy of being together for those brief stolen moments drowns out everything in the outside world. But some lines weren't meant to be crossed…
Why I picked it up:
This book was sent to me from Simon & Schuster in exchange for an honest review.
My thoughts:
My first thoughts within the first few chapters was that this book is weird. It alternates from second person to third person and is written in a really abstract way. So I automatically knew it would either grab me, or lose me completely.
The girl isn't sure what to do with his attention. She suspects, from the way her skin seems to be aching to move closer to him, that he's the reason she's drawn here every morning, just as she found herself in the dining hall that first day. But he seems so sweet, almost too open, like she's a strip of paper dragged through poisoned honey and this perfect boy flies innocently around her.
In all honesty, I'm not a fan of this sort of writing. I like my writing direct and to the point, with the bare minimum of fluffing around. I find writing like this to be almost needlessly dramatic and that effect was only heightened because I found it so hard to identify with the characters.
This novel is also not… logical. I mean, a girl just arrives on campus and floats from class to class without anyone asking any questions? Like… really? I get that the author is going for some sort of mystical feel, but I couldn't understand why everyone wasn't more curious about her.
It wasn't really until page 100 that the plot started to make some sense and I started to understand what was going on. But even after that I still didn't feel like I ever connected with the characters or cared about their plight. The execution of the story never really grabbed me. It was unique and haunting and different, but it fell short somehow. I guess it just wasn't for me.
My Verdict – 2 Stars