Title: Red Queen, Book 1 in the Red Queen series
Author: Victoria Aveyard
Publisher: Hachette
Genre: Young Adult, Dystopia, Romance, High Fantasy
Links: Goodreads | Book Depository | Amazon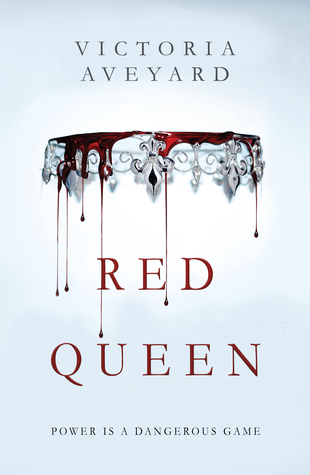 Blurb:
The poverty stricken Reds are commoners, living under the rule of the Silvers, elite warriors with god-like powers. To Mare Barrow, a 17-year-old Red girl from The Stilts, it looks like nothing will ever change.
Mare finds herself working in the Silver Palace, at the centre of those she hates the most. She quickly discovers that, despite her red blood, she possesses a deadly power of her own. One that threatens to destroy Silver control. But power is a dangerous game. And in this world divided by blood, who will win?
Why I picked it up:
I requested this one from Hachette and they were kind enough to send me a copy for review.
My thoughts:
I started reading Red Queen after I finished reading Snow Like Ashes. I had assumed (from the covers alone) that the two books would be similar, but in all reality, Red Queen was nothing like Snow Like Ashes. Red Queen sort of reminded me a little of X-Men meets The Selection series. I couldn't decide if it was a fantasy or a science fiction.
A lot of people are raving about this book, but for me it didn't feel original enough. It felt like a mash-up of X-Men, Divergent, The Hunger Games and The Selection, all combined into a story that felt a little too much like everything else I've read. It didn't have a distinctive enough voice to set it apart form others in its genre. Which sucked, because I wanted to love this, but it just felt average to me.
It didn't help that this isn't a short book… at 400 pages it felt too long, especially when I never felt like I was rooting for the characters. I ended up skimming the last 50 or so pages.
All in all, this book has a lot of amazing reviews on GoodReads so I encourage you to check it out, particularly if you are new to the Dystopian genre. But if you are a seasoned fan, then this will blend into everything else.
My Verdict – 2 stars