Title: Wallbanger
Author: Alice Clayton
Publisher: Omnific Publishing
Genre: Chick-Lit, Romance
Links: GoodReads | Publisher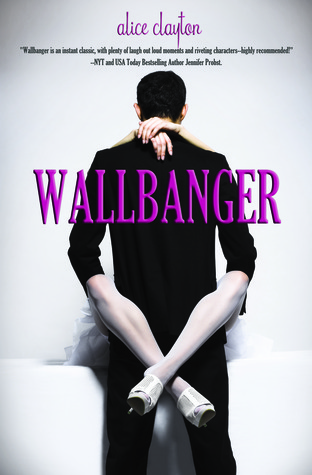 Blurb:
The first night after Caroline moves into her fantastic new San Francisco apartment, she realizes she's gaining an intimate knowledge of her new neighbor's nocturnal adventures. Thanks to paper-thin walls and the guy's athletic prowess, she can hear not just his bed banging against the wall but the ecstatic response of what seems (as loud night after loud night goes by) like an endless parade of women. And since Caroline is currently on a self-imposed dating hiatus, and her neighbor is clearly lethally attractive to women, she finds her fantasies keep her awake even longer than the noise.
So when the wallbanging threatens to literally bounce her out of bed, Caroline, clad in sexual frustration and a pink baby-doll nightie, confronts Simon Parker, her heard-but-never-seen neighbor. The tension between them is as thick as the walls are thin, and the results just as mixed. Suddenly, Caroline is finding she may have discovered a whole new definition of neighborly…
Why I picked it up:
This book was recommended on one of those "top romance" lists.
My Thoughts:
This book had some pros and cons.
Pro:
This book is pretty hilarious. Barely 20 pages in and I'd already laughed out loud on several occasions. The tone and voice of the novel was really upbeat and humorous. The novel got off to a great start.
Con:
I was forever mixing Caroline's friends Mimi and Sophia up. I knew one was tall and one was short and one was a red head, but I just couldn't keep them straight in my mind. Same went for the boys, Ryan and Simon… they were four conjoined characters as far as I was concerned.
Pro:
That said, I liked Mimi and Sophia's relationship with Caroline, it was fun, like something out of a girly movie. The dynamics in the group was always bubbly.
Con:
On a more important downside, Caroline was pretty much a Mary-Sue. It took me 100 or so pages to realise it, but once I did I couldn't stop realising it.
For all you non-fanfiction readers out there, a Mary-Sue is basically a perfect character with no flaws. It was a term coined in fanfiction where writers would basically write a faultless version of themselves to be with male characters of their choice.
Caroline was a Mary-Sue. At first it was cute, but halfway through the novel I have to admit, I found her a touch annoying. There was a lot of giggling and squealing and teasing going on. I would have liked her to be a little less fluffy.
Post-reading I discovered that this book was originally a fanfiction, so Mary-Sue Caroline made a lot more sense.
Pro:
Overall, this novel was fun. It had a lot of over-the-top embarrassing and dramatic scenes, like something right out of a romantic comedy. I kind of assumed with a title like Wallbanger and cover like… well that… that this would be an erotica, but it wasn't. It was a chick-lit, romance.
Con:
Just be aware that this is a book about Caroline. Caroline and her perfect life, perfect friends, perfect job, perfect apartment, perfect holidays and then of course, perfect boyfriend.
My Verdict – 3 stars