Title: I Was Here
Author: Gayle Forman
Publisher: Simon Schuster
Genre: Young Adult, Contemporary, Romance, Issue: Suicide
Links: Goodreads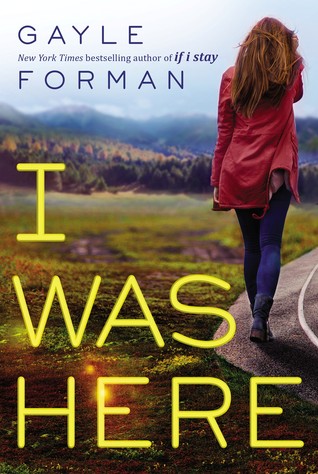 Blurb:
When her best friend Meg drinks a bottle of industrial-strength cleaner alone in a motel room, Cody is understandably shocked and devastated. She and Meg shared everything—so how was there no warning? But when Cody travels to Meg's college town to pack up the belongings left behind, she discovers that there's a lot that Meg never told her. About her old roommates, the sort of people Cody never would have met in her dead-end small town in Washington. About Ben McAllister, the boy with a guitar and a sneer, who broke Meg's heart. And about an encrypted computer file that Cody can't open—until she does, and suddenly everything Cody thought she knew about her best friend's death gets thrown into question.
Why I picked it up:
The latest Gayle Forman novel… she writes the sort of books that people rave about so you have to read them to avoid missing out and whatever everyone else is talking about.
My Thoughts:
I went into this novel tentatively, because while I have respect for Gayle Forman and her body of work, my average rating for her is low. If I Stay and Where She Went were both 2-star reads for me.
This novel tells the story of Cody and her journey in coming to terms with her best friend Meg's suicide. It focuses heavily on the existence of online suicide support groups.
I actually enjoyed this novel. I really like Gayle Forman's writing. It's simple and direct and yet rhythmical at the same time.
It's late April, but no one has alerted the weather. The wind kicks up fierce and cold, with a mean grit. We walk toward the big empty field that everyone lets their dogs shit in.
Cody isn't necessarily a likeable main character. I found her more than a little depressing. I mean, her best friend just died so she's depressed in general, but she doesn't appear to have a lot going for her. No other friends, a broken family, small town… she isn't an inspiring character by any means. She is gritty and closed off to the world.
When you are bred to be white trash, you do what you can to avoid the family trap. Most of the time it seems inevitable anyway. Still, I didn't need put a nail in the coffin by screwing any of the losers in Shitburg.
But I was intrigued by the themes of suicide and loss. I especially loved one piece of dialogue that said – "When you die, you're not a person anymore and privacy kind of becomes a moot point."
All in all, this was a good read. I liked the air of depression and darkness it had. It was gritty and I had some sort of morbid fascination with the almost trance like state that Cody sunk into. Like suicide and darkness almost became her obsession.
My Verdict – 3 stars