Title: Sweet Filthy Boy, Book 1 in the Wild Seasons series
Author: Christina Lauren
Publisher: Gallery Books (Simon Schuster)
Genre: New Adult, Contemporary, Romance
Links: Book Depository | GoodReads | Amazon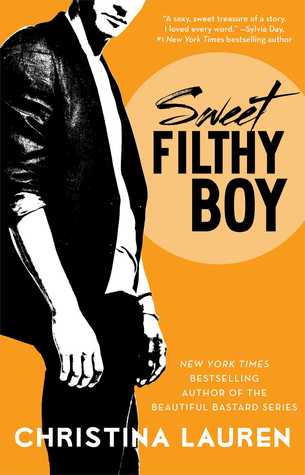 Blurb:
One-night stands are supposed to be with someone convenient, or wickedly persuasive, or regrettable. They aren't supposed to be with someone like him.
But after a crazy Vegas weekend celebrating her college graduation—and terrified of the future path she knows is a cop-out—Mia Holland makes the wildest decision of her life: follow Ansel Guillaume—her sweet, filthy fling—to France for the summer and just…play.
When feelings begin to develop behind the provocative roles they take on, and their temporary masquerade adventures begin to feel real, Mia will have to decide if she belongs in the life she left because it was all wrong, or in the strange new one that seems worlds away.
Why I picked it up:
I purchased this one after Dirty Rowdy Thing (the second in the series) appeared in my mailbox from Simon Schuster. I started reading it because I was in the mood for a contemporary romance.
My Thoughts:
This was a bit of fun. The storyline was outrageous and the characters were memorable. The writing flowed well and Mia was likeable. Going to Vegas and waking up married is an overdone premise, but it's one I've never read it before, so I found it interesting.
I liked the romance in the sense that for Mia, Ansel just fit. She didn't fall for him because he was hot or rich, she fell for him because he made her feel safe and comfortable – I loved that. I really felt the passion and the chemistry between them. I believed in their emotions 100%.
The duo that calls themselves Christina Lauren are really good at creating a sense of "realness" in their writing. All the passion and fire of Vegas and then the sudden awkwardness in France when Mia realised huh, I have no idea who this guy is. It was so real. I loved that it wasn't glossy and light because real life isn't like that, so why should this be?
The sex scenes were nice, but I would have preferred this book without them. The plot was strong enough on its own, so for me, the sex distracted from the story. I started skimming them towards the second half of the book because a good chunk of the centre section was purely sex scene after sex scene. One dress up role play after the other.
Despite skimming the majority of the last ¼ of this book, I'm still going to give it a solid 3 stars, because I think it had a lot of amazing qualities. It just didn't quite hold my attention right to the end.
My Verdict – 3 stars