Title: Simon vs. The Homo Sapiens Agenda
Author: Becky Albertalli
Publisher: Penguin
Genre: Young Adult, Contemporary, Romance, LGBT.
Links: GoodReads | Book Depository | Amazon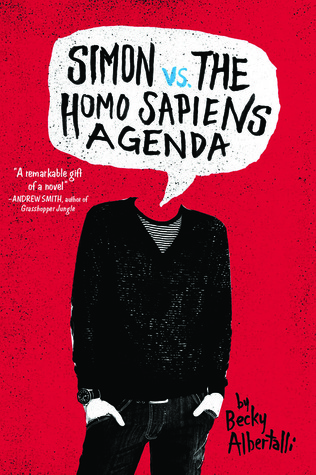 Blurb:
Sixteen-year-old and not-so-openly gay Simon Spier prefers to save his drama for the school musical. But when an email falls into the wrong hands, his secret is at risk of being thrust into the spotlight. Now Simon is actually being blackmailed: if he doesn't play wingman for class clown Martin, his sexual identity will become everyone's business. Worse, the privacy of Blue, the pen name of the boy he's been emailing, will be compromised.
With some messy dynamics emerging in his once tight-knit group of friends, and his email correspondence with Blue growing more flirtatious every day, Simon's junior year has suddenly gotten all kinds of complicated. Now, change-averse Simon has to find a way to step out of his comfort zone before he's pushed out—without alienating his friends, compromising himself, or fumbling a shot at happiness with the most confusing, adorable guy he's never met.
Why I picked it up:
This book was sent to me from Penguin in exchange for an honest review.
My Thoughts:
Simon vs. The Homo Sapiens Agenda opens with the sentence "It's a weirdly subtle conversation." I read the sentence three or four times and immediately knew this would be a book I either loved or hated.
It was immediately obvious that this book has a great unique voice. And I always love a book that mentions fanfiction! I read a lot of fanfiction in 2004-2005, so this had me chuckling:
And Leah's also into slash fanfiction, which got me curious enough to poke around the internet and find some last summer. I couldn't believe how much there was to choose from: Harry Potter and Draco Malfoy hooking up in thousands of ways in every broom closet at Hogwarts. I found the ones with decent grammar and stayed up reading all night. It was a weird couple of weeks.
This was just an all-round gorgeous novel. Simon was so likeable and so were his friends, the pace moved well, the plot was interesting, the mystery of "Blue" kept me reading, and I loved the themes. This was a great book. Highly recommended.
My Verdict – 5 stars