Title: Boomerang, Book 1 in the Boomerang series
Author: Noelle August
Publisher: Harper Collins
Genre: New Adult, Romance, Contemporary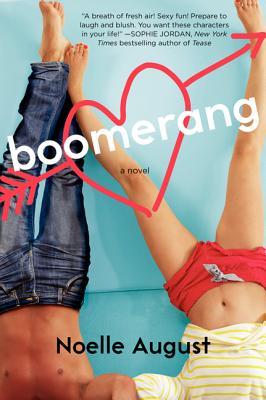 Blurb:
Welcome to Boomerang.com, the dating site for the millennial gen with its no-fuss, no-commitments matchups, and where work is steamier than any random hook-up
Mia Galliano is an aspiring filmmaker. Ethan Vance has just played his last game as a collegiate soccer star. They're sharp, hungry for success, and they share a secret.
Last night, Ethan and Mia met at a bar, and, well . . . one thing led to another, which led to them waking up the next morning—together. Things turned awkward in a hurry when they found themselves sharing a post hookup taxi . . . to the same place: Boomerang headquarters.
What began as a powerful connection between them is treated to a cold shower courtesy of two major complications. First, Boomerang has a strict policy against co-worker dating. And second, they're now competitors for only one job at the end of summer.
As their internships come to an end, will they manage to keep their eyes on the future and their hands off each other, or will the pull of attraction put them right back where they started?
Why I picked it up:
I saw this recommended in a couple of different places and decided to give it a go.
My Thoughts:
Boomerang has a killer first line!
On the single most important day of my life, I wake with the thought: Oh crap, where are my panties?
This line said a few things to me:
1. This book is going to be fun.
2. I already feel like I'm on familiar territory, which is great, because I like new adult contemporary romances.
3. This is already written with a nice upbeat voice.
I have to admit though, I'm not a huge fan of novels where the protagonist is into acting, drama, filmography or anything relating to the movie business, so really, this book could have gone either way.
This novel is sort of defined by its outlandish characters. I wasn't sure if I was a fan… it felt as though this book was written for "movie" or something. I also wasn't a huge fan of the premise… a guy and a girl competing for the same prize, it isn't my favourite romantic cliché. I must prefer a hate-to-love story than a hey-you're-hot-but-I'm-going-to-pretend-I-don't-think-so story.
Overall though, this novel was a bit of fun. It had some great can't-put-this-book-down moments and then some average this-is-silly moments. But overall it was a cute read and pretty enjoyable.
My Verdict – 3 stars