Title: Dirty Rowdy Thing, Book 2 in the Wild Seasons series
Author: Christina Lauren
Publisher: Simon Shuster
Genre: New Adult, Contemporary, Romance
Links: GoodReads
Related Reviews: Dirty Filthy Boy (Book 1)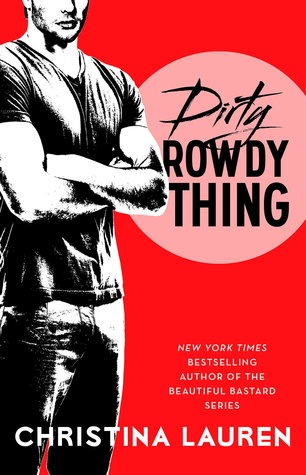 Blurb:
From the New York Times bestselling author of Beautiful Bastard, Beautiful Stranger, and Beautiful Player, Book Two of the brand-new Wild Seasons series that started with Sweet Filthy Boy—a story of friends, love, and lust.
Despite their rowdy hookups, Harlow and Finn don't even like each other…which would explain why their marriage lasted only twelve hours. He needs to be in charge and takes whatever he wants. She lives by the Want-something-done? Do-it-yourself mantra. Maybe she's too similar to the rugged fisherman—or just what he needs.
Why I picked it up:
I received this one from Simon Schuster in exchange for an honest review. So after purchasing and reading the first, I moved on to this one!
My Thoughts:
The duo that call themselves Christina Lauren are really good at creating likeable, and more importantly, believable characters. They write intense scenes that the chemistry crackles out of. Harlow and Finn were gorgeous together.
I skipped through most of the sex scenes in this book, just like I did in Dirty Rowdy Thing. I'm not really too sure why because I love a good sex scene, but in this series, I felt like they detracted from the actual story. I think sex scenes are fine when you know you are going into an erotica, but these books have a new adult vibe, so for me, there was too much sex for my taste.
Overall, I really enjoyed this one. It flowed well, the pace was good, the characters were lovable and interesting… All in all, I can't wait to get my hands on the next in the series!
My Verdict – 4 stars