Title: Saint Anything
Author: Sarah Dessen
Publisher: Penguin
Genre: Young Adult, Contemporary, Romance
Links: GoodReads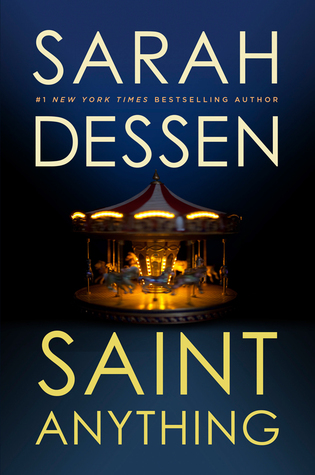 Blurb:
Peyton, Sydney's charismatic older brother, has always been the star of the family, receiving the lion's share of their parents' attention and—lately—concern. When Peyton's increasingly reckless behavior culminates in an accident, a drunk driving conviction, and a jail sentence, Sydney is cast adrift, searching for her place in the family and the world. When everyone else is so worried about Peyton, is she the only one concerned about the victim of the accident?
Enter the Chathams, a warm, chaotic family who run a pizza parlor, play bluegrass on weekends, and pitch in to care for their mother, who has multiple sclerosis. Here Sydney experiences unquestioning acceptance. And here she meets Mac, gentle, watchful, and protective, who makes Sydney feel seen, really seen, for the first time.
 Why I picked it up:
This book was sent to me from Penguin in exchange for an honest review.
My Thoughts:
I'm a big Sarah Dessen fan. Her young adult contemporary novels were some of the first books I read in the YA genre, so I went into this new novel with fond feelings.
I've always loved Sarah Dessen's writing style. It's so simplistic, to the point, and yet almost musical. It's very rhythmic with sentences that vary in length and tone. I also love how she can create subplots that are just as interesting as the main plot. But even more than that, I love how she can create well-developed characters. Even the minor characters have traits and stories you can care about. I didn't realise how much I missed that until I read this book. So often I read subpar books without really realising why they are subpar. Most of the time, I think it's because the characters are like cardboard cut-outs. They are there and functioning within the story, but they have no real dynamic or personality.
I was used to being invisible. People rarely saw me, and if they did, they never looked close. I wasn't shiny and charming like my brother, stunning and graceful like my mother, or smart and dynamic like my friends. That's the thing, though. You always think you want to be noticed. Until you are.
Overall I loved this book. Sarah Dessen does not disappoint. The characters were so vivid and I fell in love with their lives and the separate conflicts they all experienced. Considering this book is over 400 pages long, it just flew by!
If I was the invisible girl, Layla was the shining star around which her family and friends revolved. We didn't form a friendship as much as I got sucked into her orbit.
I think the best thing about this was that it didn't have a "case of disappearing parents". So many YA novels do. I loved that Sydney's mum and dad were strict. It drove me insane, but I loved it.
A another great piece of work to add to my Sarah Dessen collection!
My Verdict – 5 stars