Title: Snow Like Ashes
Author: Sara Raasch
Publisher: Harper Collins
Genre: Young Adult, High Fantasy
Links: GoodReads | Sara's Tumblr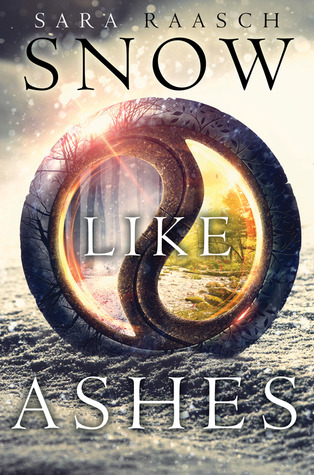 Blurb:
Sixteen years ago the Kingdom of Winter was conquered and its citizens enslaved, leaving them without magic or a monarch. Now, the Winterians' only hope for freedom is the eight survivors who managed to escape, and who have been waiting for the opportunity to steal back Winter's magic and rebuild the kingdom ever since.
Orphaned as an infant during Winter's defeat, Meira has lived her whole life as a refugee, raised by the Winterians' general, Sir. Training to be a warrior—and desperately in love with her best friend, and future king, Mather — she would do anything to help her kingdom rise to power again.
So when scouts discover the location of the ancient locket that can restore Winter's magic, Meira decides to go after it herself. Finally, she's scaling towers, fighting enemy soldiers, and serving her kingdom just as she's always dreamed she would. But the mission doesn't go as planned, and Meira soon finds herself thrust into a world of evil magic and dangerous politics – and ultimately comes to realize that her destiny is not, never has been, her own.
Why I picked it up:
This book was sort of everywhere when it was released. Everyone was talking about it, mainly because look at that cover, it's gorgeous! I got my hands on it pretty early, but it took a while for me to get around to reading it.
My thoughts:
I went into this book not really knowing what to expect. I hadn't read the blurb and I hadn't read any reviews, so I went in completely blind.
Sara Raasch is very good at painting a picture with few words. Which is good because the "world" of Primoria is confusing at best. Eight kingdoms, four with all four seasons, four with only one season – some with magic, some without, and then a bunch of characters dumped into the fray. For the first 20 or so pages I was struggling to keep them all in order…. By page 50 I had everything sorted in my brain, but still hadn't settled completely into the story.
The unfiltered rays of the sun prickle my skin as I stare up into the blue sky, wincing at a particularly sharp stone under my back. This is the fourth time in the last twenty minutes that I've ended up on the ground, watching stalks of prairie grass billow around my head. My lungs heave and sweat beads down my face, so I stay on my back, basking in this moment of peace.
All in all, this novel was a little too… bland for me. I never felt like I connected to the characters. I didn't feel like I was rooting for anyone. I was just reading along, disconnected from what was happening. I think that's because I couldn't connect with Meira. I didn't feel like she had any qualities that made me excited to be reading about her.
Around page 70 I finally sank into the story. Around page 90 it all got a little too predictable, then it started to drag. I skimmed the last half. This book wasn't for me. It never grabbed me and sucked me in.
My Verdict – 1 Star