Title: The Remedy
Author: Suzanne Young
Publisher: Simon Schuster
Genre: Young Adult, Science Fiction, Dystopia, Romance
Links: GoodReads, Suzanne Young's Website
Related Reviews: The Program, The Treatment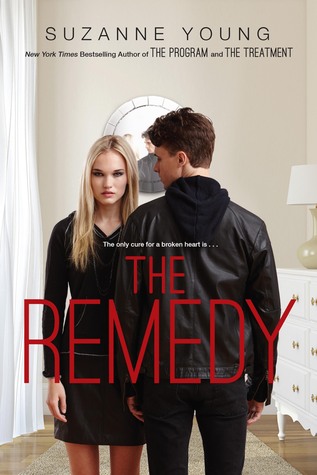 Blurb:
Quinlan McKee is a closer. Since the age of seven, Quinn has held the responsibility of providing closure to grieving families with a special skill—she can "become" anyone.
Recommended by grief counselors, Quinn is hired by families to take on the short-term role of a deceased loved one between the ages of fifteen and twenty. She's not an exact copy, of course, but she wears their clothes and changes her hair, studies them through pictures and videos, and soon, Quinn can act like them, smell like them, and be them for all intents and purposes. But to do her job successfully, she can't get attached.
Now seventeen, Quinn is deft at recreating herself, sometimes confusing her own past with those of the people she's portrayed. When she's given her longest assignment, playing the role of Catalina Barnes, Quinn begins to bond with the deceased girl's boyfriend. But that's only the beginning of the complications, especially when Quinn finds out the truth about Catalina's death. And the epidemic it could start.
Why I picked it up:
This book was sent to me from Simon Schuster in exchange for an honest review. But I was excited for this one, The Program was a 5-star review for me, and The Treatment was a 3-star read.
My Thoughts:
I read this novel in stints – in my car before work, on lunch breaks… all over the place, really. That didn't matter too much though because this book was awfully repetitive, so despite my choppy reading, I was always up to date.
Because of its repetitiveness, this was an easy read. There was never any crazy information dumps with a million characters introduced – instead the setting and plot were revealed organically. It was nice not having to backtrack and be like wait, who is this person again? On a downside of that though, it was annoying when the same points were reiterated over and over again.
I probably would have liked The Remedy better if I liked the premise – a young girl posing as a families deceased daughter to help them overcome their grief… I appreciate the originality, but it all seemed a bit far-fetched for me. I don't see how some stranger pretending to be a deceased loved one would help anyone move on… but I knew I needed to accept this to enjoy the story, so I tried to suspend disbelief a little.
Overall, while I really loved The Program, I just didn't believe The Remedy. The premise wasn't believable for me, and because of that, the climax of the novel seemed far-fetched and all the conflict seemed unnecessary.
Luckily, the last 20 or so pages saved the book. The second in the series was set up with enough intrigue to bump my original 2 star rating to a 3 star.
My Verdict – 3 stars