Title: The Heir, Book 4 in The Selection series
Author: Kiera Cass
Publisher: Harper Teen
Genre: Young Adult, Dystopia, Romance, Fantasy
Links: GoodReads | Book Depository | Kiera's Website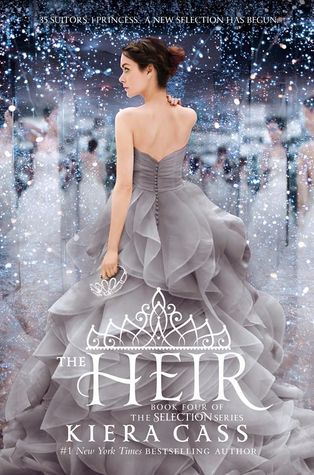 Blurb:
Princess Eadlyn has grown up hearing endless stories about how her mother and father met. Twenty years ago, America Singer entered the Selection and won the heart of Prince Maxon—and they lived happily ever after. Eadlyn has always found their fairy-tale story romantic, but she has no interest in trying to repeat it. If it were up to her, she'd put off marriage for as long as possible.
But a princess's life is never entirely her own, and Eadlyn can't escape her very own Selection—no matter how fervently she protests.
Eadlyn doesn't expect her story to end in romance. But as the competition begins, one entry may just capture Eadlyn's heart, showing her all the possibilities that lie in front of her . . . and proving that finding her own happily ever after isn't as impossible as she's always thought.
My Thoughts:
I'm a huge fan of The Selection series, so the second The Heir appeared on the shelves I eagerly snatched it up. I did go in with low expectations though, because I'd heard along the grapevine that Eadlyn was whiny and unlikable – so I went in expecting the worst.
It was immediately obvious what everyone was ranting about. Eadlyn is snobby, demanding and entitled – but hey, she grew up in a palace with everything she could ever possibly want, so I was hoping for some character growth over the course of the plot.
But at the end of the day, she just wasn't likeable. She didn't have any redeeming qualities or interests. She was cold and icy, and as such, the story around her seemed bland. The author never really gave me a love interest to root for, so at the end of the day… I didn't even know what I was reading about! Eadlyn didn't like any of the guys, it wasn't romantic, it was just meh. I could have liked this if there was a love story to root for, but there was nothing.
Overall I read it, I liked it, I devoured it quickly, but it was just… okay. Nothing special. It didn't carry any of the magic that The Selection had. It was just average. Will I read the next in the series? Probably, but this wasn't anything special for me.
Oh, and as a side note… You definitely need to read the rest of the series before this one, Kiera Cass re-introduces characters without any background. She just throws them in.
My Verdict – 3 stars