Title: Because You'll Never Meet Me
Author: Leah Thomas
Publisher: Bloomsbury
Genre: Young Adult, Contemporary, Science Fiction
Links: GoodReads | Book Depository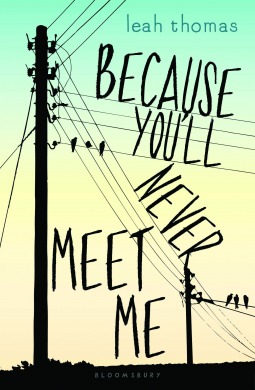 Blurb:
Ollie and Moritz are best friends, but they can never meet. Ollie is allergic to electricity. Contact with it causes debilitating seizures. Moritz's weak heart is kept pumping by an electronic pacemaker. If they ever did meet, Ollie would seize. But Moritz would die without his pacemaker. Both hermits from society, the boys develop a fierce bond through letters that become a lifeline during dark times—as Ollie loses his only friend, Liz, to the normalcy of high school and Moritz deals with a bully set on destroying him.
Why I picked it up:
This book was sent to me from Bloomsbury in exchange for an honest review.
My Thoughts:
I didn't read this book quickly… it actually took me a couple of weeks to get through… I'm unsure if that's because I was too busy, or because this book never really grabbed me. It started with an 11 page monologue – it was actually a letter, but wow it was long.
One of my main dramas with this novel was the voice. It alternated point of view between two sixteen year old boys who sound like seventy year old university lecturers. I get that they both came from "unique circumstances" but I don't see how any teen could identify with this book. I'm twenty-eight and for me it was overly stuffy and proper.
I guess at the end of the day, this just wasn't my sort of book. There wasn't enough emotion or excitement for me. It felt flat and dragged out a lot. There were moments where I felt interested, but for the most part I was reading for the sake of getting it over with, so I could read something else. Some parts were brilliant, interesting, and original… other parts were like wading through quick sand.
My Verdict – 2 stars