Title: Make it Count
Author: Megan Erickson
Publisher: William Morrow Impulse
Genre: New Adult, Contemporary, Romance
Links: GoodReads | Book Depository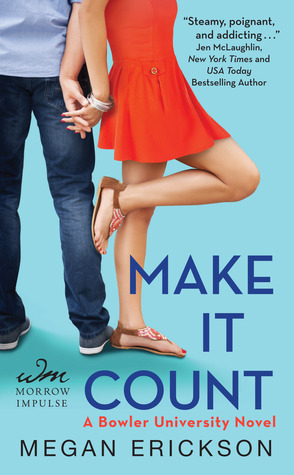 Blurb:
Kat Caruso wishes her brain had a return policy, or at least a complaint hot-line. The defective organ is constantly distracted, terrible at statistics, and absolutely flooded with inappropriate thoughts about her boyfriend's gorgeous best friend, Alec…who just so happens to be her brand new math tutor. Who knew nerd was so hot?
Kat usually goes through tutors like she does boyfriends—both always seem to bail when they realize how hopeless she is. It's safer for her heart to keep everyone at arm's reach. But Alec is always stepping just a little too close.
Alec Stone should not be fantasizing about Kat. She's adorable, unbelievably witty, and completely off limits. He'd never stab his best friend in the back…
But when secrets are revealed, the lines of loyalty are blurred. To make it count, Alec must learn messy human emotions can't be solved like a trigonometry function. And Kat has to trust Alec may be the first guy to want her for who she is, and not in spite of it.
My Thoughts:
I purchased this book when iBooks was giving away the first book in a NA series for free. I read a little of it on my computer and a little of it on my iPhone, so maybe that reading style had a little something to do with my overall rating…
Because I didn't love this. It took me a while to get used to the writing style. It read a lot like a to-do list. The author threw around miniscule details about the characters days that dragged the prose out. I really didn't need to know about every meal and how he finished said meal and then spun his milk bottle. It felt clunky sometimes and took me a while to adjust to.
It was also pretty heavy on the angst. Both Kat and Alex had personal dramas that they wallowed over. I would have liked to know why I was supposed to care about them before tipping all their problems on my shoulders.
I guess at the end of the day, this was an enjoyable NA romance. Was it the best NA romance I've ever read? No. Was it the worst? No. It was just somewhere in the middle. Maybe if I had of sat down and read this in one stint I would have liked it better.
My Verdict – 2 stars