Title: 7 Days
Author: Eve Ainsworth
Genre: Young Adult, Contemporary, Issue: Bullying
Publisher: Scholastic
Links: GoodReads | Book Depository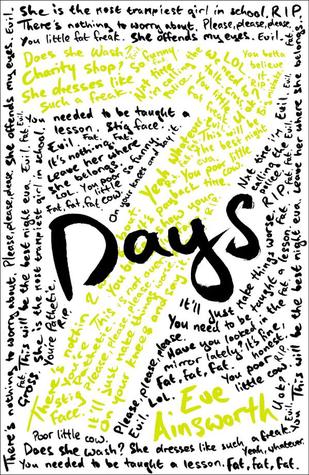 Blurb:
This bold, compelling and topical story about bullying is told from the perspective of the bully and the bullied. You won't be able put it down until you've reached the conclusion. Jess's life is difficult enough without Kez picking on her – it's turning school from a safe place into a nightmare. Kez has plenty of problems too but she finds comfort in knowing she is better off than Jess – or so she thinks.
Why I picked it up:
This book was sent to me from Scholastic in exchange for an honest review.
My Thoughts:
I haven't read a lot of bullying books. In fact, I think I've read only one other – Some Girls Are by Courtney Summers, which was excellent, so picking up this book (also about bullying) my expectations were high. Bullying is such an important subject.
To me, this book wasn't about bullying though. The most tragic part of the story was Jess's complete and utter self loathing. She had no self-esteem and no self-love. I can't help but think if she'd been raised in a more nurturing environment that the bullies never would have seen her as a target in the first place.
All in all, this was a great and important read about two lost girls whose families really weren't there when they needed them. I love books that tackle difficult topics.
My Verdict – 3 stars