Title: Dumplin
Author: Julie Murphy
Publisher: Penguin
Genre: Young Adult, Contemporary, Romance
Links: GoodReads | Book Depository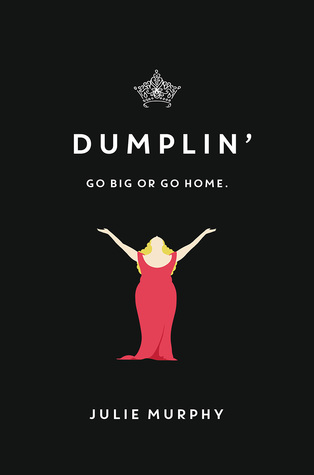 Blurb:
Self-proclaimed fat girl Willowdean Dickson (dubbed "Dumplin'" by her former beauty queen mom) has always been at home in her own skin. Her thoughts on having the ultimate bikini body? Put a bikini on your body. With her all-American beauty best friend, Ellen, by her side, things have always worked . . . until Will takes a job at Harpy's, the local fast-food joint. There she meets Private School Bo, a hot former jock. Will isn't surprised to find herself attracted to Bo. But she is surprised when he seems to like her back.
Instead of finding new heights of self-assurance in her relationship with Bo, Will starts to doubt herself. So she sets out to take back her confidence by doing the most horrifying thing she can imagine: entering the Miss Clover City beauty pageant—along with several other unlikely candidates—to show the world that she deserves to be up there as much as any twiggy girl does. Along the way, she'll shock the hell out of Clover City—and maybe herself most of all.
Why I picked it up:
This book was sent to me from Penguin in exchange for an honest review.
My Thoughts:
In a great big nutshell, this book was about body image.
The word fat makes people uncomfortable. But when you see me, the first thing you notice is my body. And my body is fat. It's like how I notice some girls have big boobs or shiny hair or knobby knees. Those things are okay to say. But the word fat, the one that best describes me, makes lips frown and cheeks lose their colour.
In reading the blurb and media for this, I was under the impression that Willowdean was supremely confident. But she's not. In the beginning she has so many insecuirities even though she tries to pretend that she doesn't. And they stay with her the entire novel until the last few pages.
I do think confidence and self-worth are really important themes, but sometimes Dumplin felt a little preachy. The message certainly wasn't subtle. It was slammed into your face throughout the entire novel. It never let up.
There are so many things I could say, but instead I cut right to the bone. "Mom." My mouth is dry. "If you don't sign that form, you're saying I'm not good enough. You're saying that most every girl in that room right now is prettier and more deserving than me. That's what you're telling me."
Amidst all of that preaching, I did catch myself wondering a couple of times where this whole novel was going… It didn't necessarily drag, but I didn't quite understand the point a few times. Nothing really happened for the first half of the novel.
I also would have like a little more from the supporting characters. Willowdean was well developed but the rest seemed like cardboard cutouts of what they could have been.
All in all, I liked this. It was a fun read. It was light and fluffy and cute. I enjoyed the writing style.
…but to me, it's this reminder that no matter who you are, there will always be someone prettier or smarter or thinner. Perfection is nothing more than a phantom shadow we're all chasing.
My Verdict – 3 stars