Title: Emmy & Oliver
Author: Robin Benway
Publisher: Simon Schuster
Genre: Young Adult, Contemporary, Romance
Links: GoodReads | Book Depository | Author Website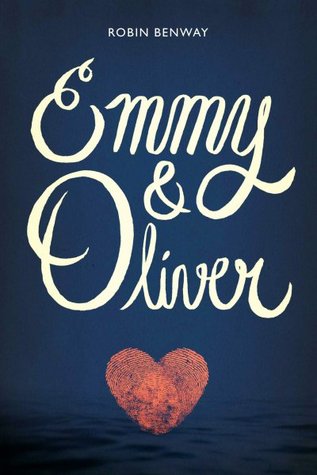 Blurb:
Oliver's absence split us wide open, dividing our neighborhood along a fault line strong enough to cause an earthquake. An earthquake would have been better. At least during an earthquake, you understand why you're shaking.
Emmy and Oliver were going to be best friends forever, or maybe even more, before their futures were ripped apart. But now Oliver is back, and he's not the skinny boy-next-door that used to be Emmy's best friend. Now he's the boy who got kidnapped. A stranger – a totally hot stranger! – with a whole history that Emmy knows nothing about.
But is their story still meant to be? Or are they like the pieces of two different puzzles – impossible to fit together?
Why I picked it up:
This book was sent to me from Simon Schuster in exchange for an honest review.
My Thoughts:
This was an extremely easy book to read. The writing, the story, the characters… they all just flowed. All I needed was to allocate some time to devour them. The beginning in particular started really well. I found the writing incredibly visual, the story played through my mind like a movie or TV show.
Perhaps the thing I liked the most about the story was that all the characters were well-developed. It wasn't just about Emmy & Oliver and their cardboard cutout friends. Caro and Oliver both had stories and troubles of their own, which I loved. It was a very well rounded story with multiple sub plots.
I also really enjoyed the dialogue.
"Hey, remember when Kaitlyn Cooper was in the library and someone opened a package of peanut M&M's? Oh my god, she blew up like a balloon. People were practically throwing EpiPens at her like she was a dartboard."
Emmy & Oliver is a coming of age story. It's about teenagers learning to stand on their own two feet and stand up for a future that isn't overruled by their parents.
"Look, Mo," my mom said to her. "Oliver is home now. That's what's important. He's not going to talk to you, all right? He's seventeen. Emmy's seventeen and she never talks to me."
"It's true," I said. "I'm actually legally obligated to ignore her. The other teenagers and I made a pact. There were lawyers involved, it's a whole thing now."
I really enjoyed it. First book I've rated above 3 stars in ages.
My Verdict – 4 stars