Today is my stop on the Cloudwish blog tour! Thanks to Pan Macmillan for including me and to Fiona for answering all my questions!
Title: Cloudwish
Author: Fiona Wood
Links: GoodReads | Author Website | Book Depository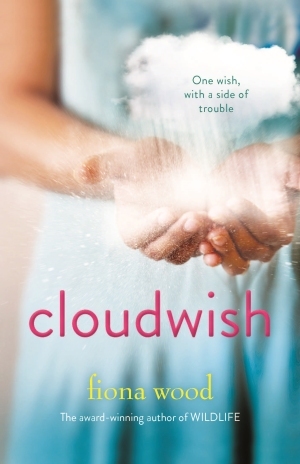 Although my copy looks a little more like this… Thanks Pan Macmillan!
Blurb:
For Vân Uoc Phan, fantasies fall into two categories: nourishing, or pointless. Daydreaming about Billy Gardiner, for example? Pointless. It always left her feeling sick, as though she'd eaten too much sugar.
Vân Uoc doesn't believe in fairies, zombies, vampires, Father Christmas – or magic wishes. She believes in keeping a low profile: real life will start when school finishes.
But when she attracts the attention of Billy Gardiner, she finds herself in an unwelcome spotlight.
Not even Jane Eyre can help her now.
Wishes were not a thing.
They were not.
Correction.
Wishes were a thing.
Wishes that came true were sometimes a thing.
Wishes that came true because of magic were not a thing!
Were they?
1. Can you tell us where your idea for Cloudwish originally came from?

The main inspiration was to write a story for Vân Uoc Phan, who was a minor character in Wildlife. I was interested in using Jane Eyre by Charlotte Bronte as a reference text. Jane Eyre is a character of timeless appeal whose story has particular resonance for Vân Uoc. And I decided to include a magical element after author and friend Simmone Howell gave me a beautiful little glass vial that was asking to have a story written about it.
2. When you aren't writing, what do you like to get up to?

I love reading, walking, cooking and eating. And looking at art in galleries and museums. And sleeping in. And mooching around with friends and family.
3. Do you have any advice for aspiring authors?

Read lots of novels. When you read, you're learning all about prose, and seeing how and why it works, or doesn't work. You're learning about story structure and characters, and about how themes are woven through both. The more familiar you are with fiction before you start writing your first novel, the easier it will be. Meanwhile, write for enjoyment. Start a creative journal using words and pictures, and join your local writers' centre to find out about workshops, competitions and publication opportunities. If you have friends who enjoy writing, explore the idea of forming a writing group to share work in progress and give each other feedback.
4. Which writers inspire you?

Too many to name, as a reader, but three great favourites are Jane Austen, George Eliot and Penelope Fitzgerald. As a writer, I admire the wisdom and integrity of Cath Crowley, Simmone Howell and Melina Marchetta. (I also love their books as a reader.)
5. What are some of your favourite novels?

Recently, I have adored reading the Neapolitan novels of Elena Ferrante, How to be both, by Ali Smith, and Salt Creek, by Lucy Treloar. And I am very lucky to have an early copy of Vikki Wakefield's new novel, Inbetween Days, which I'm loving.
6. What makes you happy?

Starting a new book. Not having to work at the weekend. My friends and family. Delicious food. Cold weather. Radiohead. Cy Twombly. Fra Angelico. The feeling of powerlessness and escape when a plane is about to take off. Getting an iTunes email telling me that a new episode of Nashville is available. My reading group.
7. When and why did you first begin writing?

I wrote my first novel in Year Eight because we had to, for English. Mine was a genre-bending boarding school crime hybrid: 'Mystery at the Manor'. I also illustrated it. It took me a while to write the second novel – I finished school and university, worked in areas that had nothing much to do with writing, had children, did some freelance journalism and PR, studied screenwriting, and then worked as a TV scriptwriter for many years, before I eventually found my way back to fiction.
8. Do you have a specific writing style?

My work falls into the category of contemporary YA realism. I'm not sure I'd call it a style, but I offer my readers a worldview that is inclusive and diverse, and I always try to write with warmth and humour, as well as investigating some chewy themes.
9. Are you working on anything new you can tell us about?

I'm co-writing a new book with Cath Crowley and Simmone Howell. It has the working title, Friends Anonymous.
Cloudwish is published by Pan Macmillan Australia and is available now at all good bookstores and online.