Title: Throne of Glass, book 1 in the Throne of Glass series
Author: Sarah J Maas
Publisher: Bloomsbury
Genre: Young Adult, High Fantasy, Romance
Links: GoodReads | Book Depository
Related Posts: My Interview with Sarah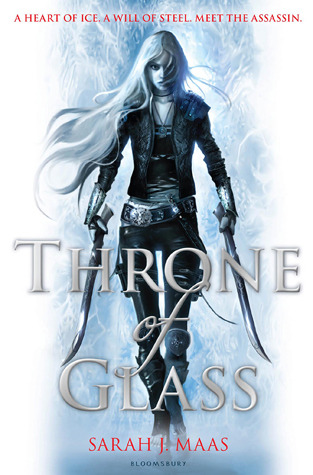 Blurb:
In the dark, filthy salt mines of Endovier, an eighteen-year-old girl is serving a life sentence. She is a trained assassin, the best of her kind, but she made a fatal mistake: she got caught.
Young Captain Westfall offers her a deal: her freedom in return for one huge sacrifice. Celaena must represent the prince in a to-the-death tournament—fighting the most gifted thieves and assassins in the land. Live or die, Celaena will be free. Win or lose, she is about to discover her true destiny. But will her assassin's heart be melted?
Why I picked it up:
I've read the first three books in the Throne of Glass series before, but I decided to read them all again before starting the fourth! The fact that I even like this series is pretty huge for me, because I'm not a high-fantasy fan at all!
My Thoughts:
I think what makes this series so popular is the characters. Celaena in particular is so likeable. Sarah J Maas does a really good job at introducing her – she is so snarky and fun.
Celaena glanced over her shoulder at Chaol, who gave his prince an apologetic look. "The Chief Overseer informed me this afternoon that there was one incident. Three months-"
"Four months," she interrupted.
"Four months," Chaol said, "after Sardothien arrived, she attempted to flee."
She waited for the rest of the story, but he was clearly finished. "That's not even the best part!"
I also like:
For the next two weeks, they traveled down through the continent, the nights becoming cooler, the days shorter. Icy rain kept them company for four days, during which time Celaena was so miserably cold that she contemplated throwing herself into the ravine, hopefully dragging Chaol with her.
The cast of characters are so well rounded, and so is the plot – it's interesting, the plot moves well, there is enough intrigue to keep you reading. Overall, it's just a great story, a great start to the series and a great start to a whole fantastical world.
My Verdict – 5 stars