Title: Crown of Midnight, book 2 in the Throne of Glass series
Author: Sarah J Maas
Publisher: Bloomsbury
Genre: Young Adult, High Fantasy, Romance
Links: GoodReads | Book Depository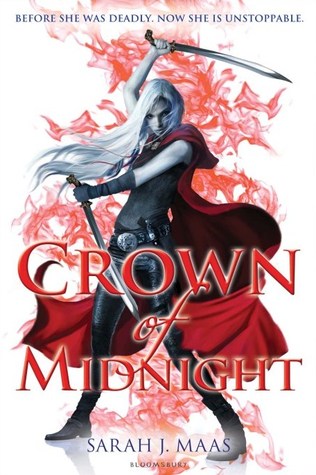 Blurb:
Celaena Sardothien, royal assassin, is the King of Adarlan's deadliest weapon. She must win her freedom through his enemies' blood – but she cannot bear to kill for the crown. And every death Celaena fakes, every lie she tells, put those she loves at risk.
Torn between her two protectors – a captain and a prince – and battling a dark force far greater than the king, Celaena must decide what she will fight for: her liberty, her heart or the fate of a kingdom…
Why I picked it up:

I'm re-reading this series before starting Queen of Shadows.
My Thoughts:
To me, Crown of Midnight had a distinctly different vibe to Throne of Glass. It introduced some new characters and Celaena took on a different role as she took up the position of Champion to the King. I like how the story evolved. I also loved how Celaena's focus moved away from Dorien and onto Chaol because I'm a big fan of him. But yes, the story was definitely different, perhaps because it had less direction – in Throne of Glass, the obvious path was to the final duel, but in this one, you had no real idea where the plot was going to go. Aside from the story, this one also migrated into an alternating point of view style as each character slipped into their own distinctive story line.
It's in reading Crown of Midnight that I can understand why this series is so popular. The power of this series is definitely in the characters. You just fall in love with them. It's very powerful to read about characters you love fighting the demons they must face.
My Verdict – Incredible!