Title: Queen of Shadows, book 4 in the Throne of Glass series
Author: Sarah J Maas
Genre: Young Adult, Fantasy, High Fantasy, Romance
Publisher: Bloomsbury
Links: GoodReads | Book Depository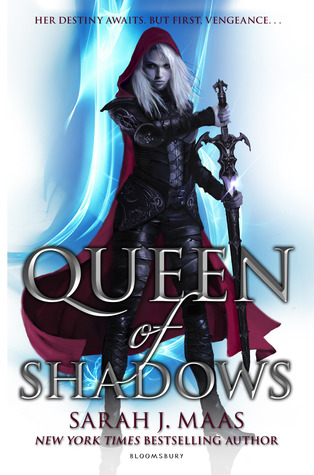 Blurb:
Everyone Celaena Sardothien loves has been taken from her. But she's at last returned to the empire—for vengeance, to rescue her once-glorious kingdom, and to confront the shadows of her past . . .
She will fight for her cousin, a warrior prepared to die just to see her again. She will fight for her friend, a young man trapped in an unspeakable prison. And she will fight for her people, enslaved to a brutal king and awaiting their lost queen's triumphant return.
Why I picked it up:
I'm a big fan of the first 3 books in the series, so of course I had to re-read those before picking up this one!
My Thoughts:
Every book in this series has had a different feel for me. The feel changes as the characters evolve, relationships change, and the story progresses. Queen of Shadows was no different. I loved how involved the plot became – there was so much going on, and I started to see how it could all come together in the end.
At the end of the day, I don't have too much to say about this one, because it was another wonderful instalment to a wonderful series. It is rare that I read a series that is so consistent, but Sarah J Maas delivers again and again.
Highlights for me – I loved the climax and resolution, it was so real and gritty. Just perfect, really. So excited to see what happens next!
My Verdict: