Title: Everything Everything
Author: Nicola Yoon
Publisher: Random House, Corgi Children
Genre: Young Adult, Contemporary, Romance
Links: GoodReads | Book Depository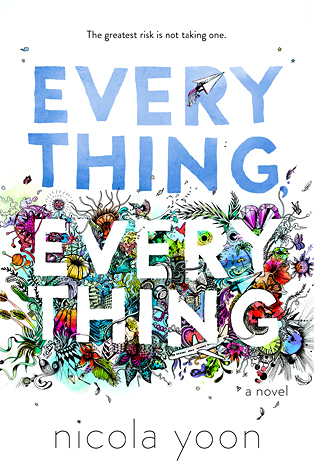 Why I picked it up:
This book was sent to me from Penguin in exchange for an honest review.
My Thoughts:
I'd seen this book on a couple of different book blogs  and was dying to read it because c'mon, that cover is spectacular! I mean, it's so beautiful and yet understated with an interesting blurb to match, so reading this was a no brainer.
Unfortunately, I read Everything Everything directly after re-reading the Throne of Glass series, so in comparison, this felt extremely quick and simple.
Despite that, this story held its own. It's a super quick read with short, snappy chapters that are interlaced with graphics that really yank you into the story. I really felt for Maddy, her mother and their entire situation. It was definitely believable.
This book really struck a cord with me because I read it while I was holidaying in Vanuatu – the subject matter made me realise how incredibly lucky I am that I've never had to live my life in a bubble. I'm fit and healthy and that is something I think everyone takes for granted.
I suppose the only thing I didn't like about this book was the travel element. I'm a big traveler in life, but I don't like books where characters go on holidays or road trips. They always start to read a little like guide books to me.
But aside from that, this was a great debut. It was a really great read that helped me get over my Queen of Shadows book hangover! I especially loved the twists!
My Verdict – 4 stars