Title: Asking For It
Author: Louise O'Neill
Publisher: Hachette (Quercus)
Genre: Young Adult, Contemporary, Drama
Links: GoodReads | Book Depository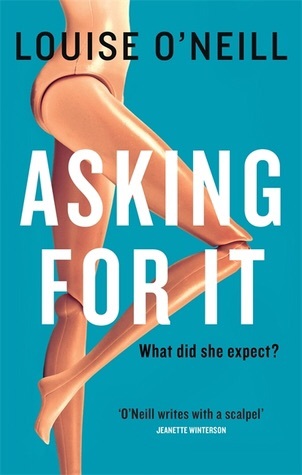 Blurb:
It's the beginning of the summer in a small town in Ireland. Emma O'Donovan is eighteen years old, beautiful, happy, confident. One night, there's a party. Everyone is there. All eyes are on Emma.
The next morning, she wakes on the front porch of her house. She can't remember what happened, she doesn't know how she got there. She doesn't know why she's in pain. But everyone else does.
Photographs taken at the party show, in explicit detail, what happened to Emma that night. But sometimes people don't want to believe what is right in front of them, especially when the truth concerns the town's heroes…
Why I picked it up:
This book was sent to me from Hachette in exchange for an honest review.
My Thoughts:
Wow… this was a very intense and thought-provoking novel. I haven't read a book that pulled so many emotions from me in a really long time!
It took me a few pages to adjust to the writing style, and even once I did, I had to go back and re-read those initial pages a few times. The sentences are very short and the characters are abruptly introduced, so I found myself backtracking a few times to double-check what I'd missed.
Emma is an extremely interesting character. She isn't likeable at all, instead she's a liar, jealous, passive aggressive, dramatic, and I found the way she treated her friends and family to be really hard to swallow. But I think that's what makes the story so interesting, because sure, Emma isn't likeable, but does that really mean that she deserved what she got? Of course not. I loved the shades of grey about this that the author bravely explored.
This story was just… man, it was out there. It didn't hold back. It made me feel intense disgust and an incredible sadness at the same time.
"I see these girls walking around town here on a Saturday night, half naked, I tell you… Skirts up their backsides, and tops cut down to their belly buttons, and they're all drinking too much and falling over in the streets, they're practically asking to be attacked, and then when it happens, they start bawling crying over it. As your other man said, what do they expect?"
Amazing subject matter explored in this novel! Definitely a powerful and thought-provoking read!
My Verdict – 5 stars