Today on Words Read & Written I'm interviewing Madeline Dyer. A big thanks to Madeline for answering all my questions.
Madeline is the author of Untamed, a YA dystopian fantasy novel. She is currently working on book two in the Untamed Series, as well as a new dystopian trilogy for adults. Aside from writing, Madeline enjoys reading, painting, and inline skating.
Title: Untamed
Author: Madeline Dyer
Publisher: Prizm Books
Genre: Young Adult, Dystopia
Links: Madeline's Website | Facebook | Twitter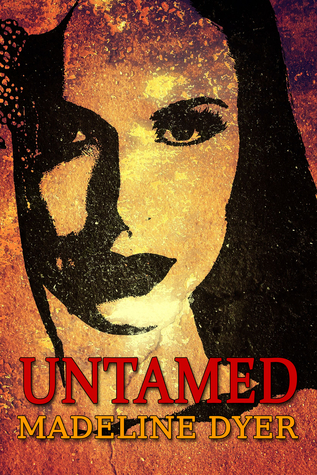 1. Tell us a bit about Untamed…
UNTAMED is a YA dystopian fantasy novel about addiction, betrayal and family loyalty. The official hook is: When an Untamed girl is kidnapped and converted by the Enhanced Ones, she must remember who she was meant to be or else risk the extinction of her people.
UNTAMED is also a book that is very close to my heart. I wrote it when I was 18, and by the time I was 19, four publishers had offered on it. As it's my first published book, it will always be very special to me, and I love the Untamed World so much—and it's a series, so I'm currently back in that world, working on book two!
I've also have great feedback and reviews too, with Jen Knox (award-winning author and writing coach) calling UNTAMED 'the sort of book that is incredibly difficult to put down, the kind of book you can fall into and forget the world, forget you're reading words on a page'.
2. Are you a planner, or do you write by the seam of your pants?
I definitely do some planning, but the amount of planning I do varies depending on the genre I'm writing. With dystopians, for example, I usually plan out a rough plot for the book, mainly deciding on the major plot stepping stones, but don't always know how I'm going to get my characters from one step to another until I'm actually writing those scenes. Because dystopian worlds tend to be unpredictable, I like to leave space for 'free-writing sections' where I can just write by the seam of my pants for a couple of chapters. I've found that this helps keep my interest in the manuscript high as well—something that I think is necessary if my book is going to appeal to readers. But I also usually know exactly how I want my book to end, particularly if it's part of a series, as I also need the series to have an over-arching plot too.
3. Which writers inspire you?
Oh, there are so many! Richelle Mead, Rachel Caine, L. A. Weatherly and Rick Yancey are the writers who I absolutely love, and I'll read anything by them. I think their work has definitely inspired me.
4. What is the hardest thing about writing?
The actual writing, particularly the first draft. It's the sitting down and hammering out a first draft that I find particularly difficult, as I need to be really disciplined, but also shut off my inner-editor. My rule is that I won't start any editing until I have a completed first draft and know the shape of the manuscript, but it is so tempting to go back and rework what I've already written.
5. Do you read much? What are your favourite books?
I read all the time! And I definitely think that you can't be a writer unless you read. My top three books (at the moment) are THE CLAN OF THE CAVE BEAR by Jean M. Auel, GONE GIRL by Gillian Flynn, and BLACK ICE by Becca Fitzpatrick.
6. What do you get up to when you aren't writing?
Well, when I'm not writing, there's always research and editing that needs to be done! But when I'm not doing anything writing-related, I can be found out on our farm, or doing a spot of art—I love drawing animals!
Thank you so much for chatting with me today; you asked some great questions!