Every now and then, I come across a book that I don't finish. Or maybe it's a book that I do finish, but don't have much to say about. So welcome to my first ever post of mini reviews! Because hey, most of the time I have plenty to say!
Title: Insider, book 1 in the Exodus End series
Author: Olivia Cunning
Status: Did Not Finish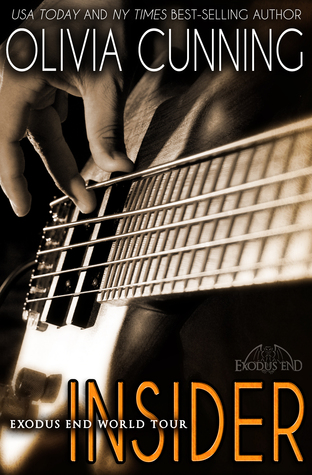 My Thoughts:
Let me start by saying… that I love Olivia Cunning. The Sinners on Tour series is one of my favourites. I love Olivia's writing style, the way she builds characters, and how she sucks you into her world. So needless to say, I was excited for this spin off to Sinners on Tour.
Unfortunately, I didn't like the characters… I found Toni interesting… some parts of her personality I liked, but she was a bit too helpless, naïve, and wallflower-like for me. I also wasn't one hundred percent sold on Logan… he was a bit too… *thinks* … almost childish. Like a needy, demanding, selfish sort of child. Like Toni was a toy he couldn't have.
For example:
Logan really wanted to kick Max in the back of the knee. Why should he get to talk to Toni? Just because he was the lead singer. Bassists were important too. Logan scratched his head. Well, bassists should be important.
I mean, really? Calm down. You're an adult.
At the end of the day, I just couldn't finish this. The cast of supporting characters were good, and I look forward to reading the other band members books. But this one, just wasn't for me.
Title: I'll Be There
Author: Holly Goldberg Sloan
Status: Did Not Finish
This book was sent to me from Scholastic in exchange for an honest review.
I don't like to "did not finish" books that have been sent to me, but this one wasn't for me. I didn't like the writing style at all. It was all prose with no dialogue. I like to sink into my novels and feel like I'm there. This was all telling, no showing.
Title: Dragon's Lair, book 1 in the Wind Dragons series
Author: Chantal Fernando
Status: Did Not Finish
I wanted to like this. I received it free at Readers and Writers Downunder and got Chantal to sign it… so I felt like it was my duty to like it, but I didn't.
I'm not huge fan of "surprise pregnancy" plot lines. I like relationships that develop organically, rather than two people being forced together because of a mistake.
I also like relationships where you can "see" everything. Dex and Faye had known each other since they were kids, so I felt like they had an entire history I knew nothing about. Maybe seeing more of their history would have helped me with the present, because I didn't get their dynamic.
I don't know if it's just me being picky, but I've read so many books lately where I haven't really liked the characters. I never warmed to Dex or Faye. I don't know what it was about them that I didn't like, but they didn't grab me or suck me in.
Title: When You're Back, book 12 in the Rosemary Beach series
Author: Abbi Glines
Status: Did Not Begin
I received this one from Simon & Schuster in exchange for an honest review. It was only after I read the first page that I realised this book is number 12 in a series! I've read the first in the series, Fallen Too Far, which was a 4 star review for me, but this one is going to be re-shelved until I read the rest!
Title: The Summer of Chasing Mermaids
Author: Sarah Ockler
Status: Did Not Finish
I have a rule… I always read at least 50 pages before deciding to give up on a novel.
But I didn't even make it to 50 pages with this one…
Why?
I didn't like the writing style. Which is a huge personal opinion because plenty of people on GoodReads were gushing over the writing, but for me, it didn't work. I like my writing simple and direct. The writing in this was more…. metaphorical. It was poetic and whimsical and I just wasn't a fan. That type of writing always makes me feel like I'm wading through quicksand. I like to get to the point without all that excess fluffing around.