Title: Corrupt
Author: Penelope Douglas
Publisher: CreateSpace
Genre: Dark Romance, Adult, Contemporary
Links: GoodReads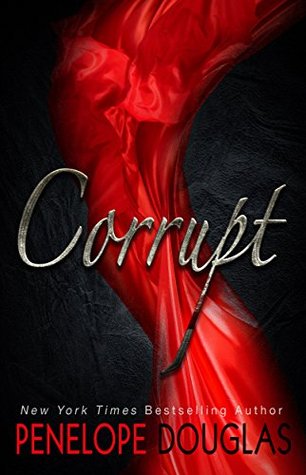 Blurb:
I was told that dreams were our heart's desires. My nightmares, however, became my obsession.
His name is Michael Crist.
My boyfriend's older brother is like that scary movie that you peek through your hand to watch. He's handsome, strong, and completely terrifying. The star of his college's basketball team and now gone pro, he's more concerned with the dirt on his shoe than me.
But I noticed him.
I saw him. I heard him. The things that he did, and the deeds that he hid…For years, I bit my nails, unable to look away.
Now, I've graduated high school and moved on to college, but I haven't stopped watching Michael. He's bad, and the dirt I've seen isn't content to stay in my head anymore.
Because he's finally noticed me.
Why I picked it up:
I spotted this one at #4 in the "Popular in November 2015" list on Goodreads. The blurb sounded intriguing so I figured I'd give it a go.
My Thoughts:
I've never read a "dark romance" before, so I went into this novel tentatively. All of the reviews I'd seen had been amazing though, so I figured everything would be okay. Or I hoped so, anyways.
Corrupt is beautifully descriptive. The first chapter was incredibly creepy – it had me racing around the house closing my curtains and locking my doors! I love a book that pulls a physical response from me, and this one was definitely like:
And like:
But mostly like:
"Toughen up," he bit out in a whisper as his breath fell across my cheeks. "You're not a victim, and I'm not your savior. You handled it. End of story."
I adored the relationship between Michael and Rika. I like how he wasn't safe, and she never really knew whether he was looking out for her or not. Like the risk made it all worth it – like those fleeting tender moments were all the more intoxicating because they were so rare. I loved the drama. Loved the ups and downs… I suppose the thing is… when you're scared and unsure, that's when you know you're alive.
Michael had made it very clear that, while he may have my hand right now, he didn't have my back. So why didn't any of that make me want to stop?
I definitely loved this book, but in saying that, I wouldn't recommend it to everyone. It is a novel that definitely toed (and on occasion stepped over) the line. If you don't like dark romances, then this isn't the book for you. But if you like your romance a little messed up from time to time, then definitely give Corrupt a go.
My Verdict – 5 stars