Title: My Heart and Other Black Holes
Author: Jasmine Warga
Publisher: Hachette
Genre: Young Adult, Contemporary, Romance, Issue: Suicide
Links: GoodReads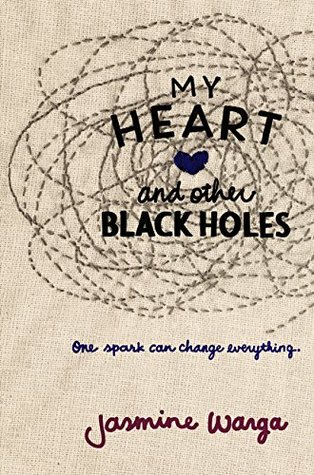 Blurb:
Aysel and Roman are practically strangers, but they've been drawn into an unthinkable partnership. In a month's time, they plan to commit suicide – together.
Aysel knows why she wants to die: being the daughter of a murderer doesn't equal normal, well-adjusted teenager. But she can't figure out why handsome, popular Roman wants to end it all….and why he's even more determined than she is.
With the deadline getting closer, something starts to grow between Aysel and Roman – a feeling she never thought she would experience. It seems there might be something to live for, after all – but is Aysel in so deep she can't turn back?
Why I picked it up:
I picked this one up after seeing it a couple of places online, and nominated in the GoodReads 2015 awards. The beautiful people at Hachette were kind enough to send me a copy for review.
My Review:
One of the first things I noticed about My Heart and Other Black Holes is that Aysel has personality – her character literally springs off the page within the first few chapters, and I knew immediately that I would enjoy reading about her life, if only because she was so well-developed.
I also knew I'd enjoy this story because it's unique – I've never read a primuse quite like it. I liked the concept, the writing, the characters… I got halfway through the novel and my opinion hadn't really deviated from that.
He puts his hand out and I grab it. His grip is weak and loose, unlike when he squeezed my hand at the carnival. And this time, I can feel my hand. I can feel everything. And I want to keep feeling everything. Even the painful, awful, terrible things. Because feeling things is what lets us know that we're alive.
My only real problem with this book is that it's flat. It didn't have a lot of up and down dynamics. It was all on one level. It started well and ended well, but it did drag a little in the middle.
Despite that, I think this was a great read. It dealt well with the dark themes of suicide, and I would definitely recommend it to others.
My Verdict – 4 stars