Title: Carry On
Author: Rainbow Rowell
Publisher: Pan Macmillan
Genre: Young Adult, Fantasy, Romance
Links: GoodReads
Related Reviews: Fangirl (4 stars) | Eleanor & Park (3 stars)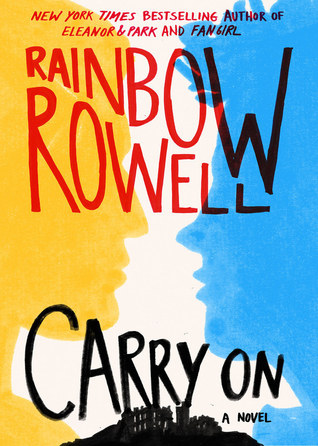 Blurb:
Simon Snow is the worst chosen one who's ever been chosen.
That's what his roommate, Baz, says. And Baz might be evil and a vampire and a complete git, but he's probably right.
Half the time, Simon can't even make his wand work, and the other half, he sets something on fire. His mentor's avoiding him, his girlfriend broke up with him, and there's a magic-eating monster running around wearing Simon's face. Baz would be having a field day with all this, if he were here—it's their last year at the Watford School of Magicks, and Simon's infuriating nemesis didn't even bother to show up.
Why I picked it up:
This book was sent to me from Pan Macmillan in exchange for an honest review.
My Thoughts:
I wasn't too sure what to think about this novel prior to starting it… in a nutshell, it features the characters that Cath wrote fanfiction about in the novel Fangirl… So, in knowing that, I couldn't decide if Carry On had the potential to be amazing or utterly horrific. I mainly picked it up over others in my TBR pile because I felt like reading a MM romance.
Immediately, within the first few pages, I found it was easier to disregard this as an actual novel and pretend it was something that Cath had written. Because hey, in all reality this is pretty much Harry Potter fanfiction with different names. But I've read a lot of fanfiction in my time, so once I accepted that, it was an easier read.
Parts of the story definitely dragged. It started well, it was interesting, and different, but towards the middle it really started to drag with way too much back and forth conversation. It felt like once the novelty of the story wore off, there wasn't a lot left over.
But despite that, I do appreciate what this novel was trying to do, because seriously, how awesome is fanfiction and fandom! But I think this book was too long – I ended up skimming most of the second half.
My Verdict – 2 stars